25/10/2021
NORTHERN IRELAND ON THE INTERNET
Cross Concrete Flooring Ltd

Contact Details
Address
Fawney Road,
CROSS
Drumahoe
County Londonderry
BT47 3NB
Click for full opening hours
Monday
08:30 am-05:00 pm
Monday
Tuesday
Wednesday
Thursday
Friday
08:30 am-05:00 pm
08:30 am-05:00 pm
Saturday
Closed
Sunday
Closed
Other Dates
About Cross Concrete Flooring Ltd
Cross Concrete Flooring Ltd.
, based in the North West of Ireland, was established to satisfy a niche in the market place for a fast, flexible and personal service to the building industry.
Established in January 2005, we pride ourselves on our extensive experience within the precast concrete flooring industry.
We currently supply to both the UK and Irish marketplace and our efficient and reliable service ensures that all new customers become repeat clients.
All of our technical staff have gained a wealth of experience in their field and as one of our directors, Dr. Ambrose McCloskey runs his own structural design consultancy; structural advice is easily accessible.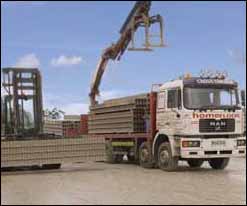 Cross Concrete Flooring Ltd Gallery
Location Map of Cross Concrete Flooring Ltd

Pan Concrete Mixer
Planetary Concrete Mixer
Twin Shaft Concrete Mixer
Jetwash
Transbatch Compact Mobile Concrete Batching Plant
Rapidbatch Mobile Concrete Batching Plant
Standard Static Concrete Batching Plant
Bespoke Static Concrete Batching Plant
Trakmix (Tracked)
Rapidmix (Wheeled)
www.rapidinternational.com