30/05/2020
NORTHERN IRELAND ON THE INTERNET
Address
6 Knocklynn Road
Coleraine
County Londonderry
BT52 1WT
About The Sandel Centre
Please come in and look around. The Sandel Centre is a resource for local community groups, charities and businesses. We provide a range of rooms which can be hired for a wide variety of events, at very competitive prices.
We are also home to the
Cinnamon Café
which is an ideal place to meet up with friends and colleagues, or just to relax.
The Sandel Centre is owned by
Mountsandel Christian Fellowship
and serving the community in this way is an expression of their Christian faith
Room Hire Service
At the Sandel Centre our desire is to serve the local community in Mountsandel and Coleraine (although we welcome groups from all over the Province) by providing a modern and friendly setting for people to meet together.
We aim to provide groups with a personal and friendly service as well as good value for money. We have a range of rooms and halls for you to choose from and these can be set up according to your requirements.
We recognise that many charities and community groups can't afford venues of their own and we want to encourage such groups, so not only do we tray and keep our prices as low as we can, but we offer a further
20% discount for charities.Rooms & Halls
Main Hall

With a seated capacity of up to 150 people this room is ideal for presentations to large groups, public events, children's activities, exercise classes and more. The hall is on the ground floor and is fully carpeted.

Upper Main Hall

This slightly smaller hall will easily accommodate presentations to groups of up to 45 people and is ideal for classes or groups of more than 20 which require tables or some extra space. The Upper Main Hall is located on our first floor and is accessible by lift as well as stairs.

The Snug

This cosy room with soft carpet and fireplace is great for meetings, classes or small presentations. It will seat up to 25 people, but as with each room we can advise you of the capacity for your chosen layout.

The Sunroom

The first of three medium sized rooms on our first floor, this bright and airy room with wooden floor is ideal for informal meetings and small groups. It will seat up to 20 people.

The Eaves

The Eaves is a private and comfortable space ideal for consultations, counselling or small groups of 8-10 people. It is equipped with two leather chairs and a coffee table, but additional chairs and a full-size table can set up instead.
Catering
Our on-site café can provide a range of catering options for your meeting or event. These include tea and coffee, scones, sandwiches and soup, all freshly made. Please contact us for details and prices.
Whilst the food from the café is excellent you are also welcome to bring your own food with you or use our galley kitchen on the first floor to make your own tea or coffee.
Equipment Hire
We can provide you with the following equipment if you need it:
Data Projector
Overhead Projector
Flip Chart (with pens)
TV with DVD Player
Projector Screen
PA system (in Main Hall only)
Plates and Mugs
Pump Dispensing Vacuum Flasks
Centre Facilities
Parking
We have our own car park on our doorstep with spaces for 44 cars. Additional parking is available at the Sandel Village Centre just 50m down the road.
Disabled Access
There are two designated disabled parking spaces. The access to the building and all ground floor rooms is on the same level as the car park. There is a disabled access toilet on the ground floor and a lift beside it to the first floor.
Toilets
There are male and female toilets and a disabled access toilet on the ground floor. The disabled access toilet also has baby changing facilities. There are also male and female toilets on the first floor.
Galley Kitchen
There is a small kitchen on the first floor which is equipped with mugs, plates, kettles and a microwave oven.
Our rooms are currently used for committee meetings, exercise classes, training, counselling, club meetings, hobby classes, public meetings and many other uses.
The 87 separate clients who used the Sandel Centre in 2011 included individuals, local and national charities, local businesses, the Health Service, the Education and Library Board, universities and church groups.
Cinnamon Café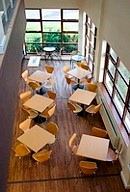 Enjoy a cup of our finest fairly traded coffee with a freshly made scone or a home made tray bake. Or perhaps you would prefer a refreshing cup of tea as you enjoy some lunch or read the paper?

Whether you are meeting up with friends or colleagues, or taking a break in the midst of a busy day, the Cinnamon Café is the perfect place to be. There is even free parking at the door so you have no need to rush.
For any other questions or enquiries please contact us!
The Sandel Centre Gallery
The Sandel Centre Products & Services
Room Hire - for groups of 2 to 150 people
Café - serving freshly made food and fairly-traded tea and coffee
Location Map of The Sandel Centre