02/07/2022
NORTHERN IRELAND ON THE INTERNET
Contact:
Jayne Perkes & Neil Perkes
Address
41 Castle Street,
Comber
Belfast
County Antrim
BT23 5DY
Click for opening hours
Monday
Tuesday
Wednesday
Thursday
Friday
Closed
Saturday
Closed
Sunday
Closed
Other Dates
Friday By Appointment Only
About Bio Cranial Osteopath Belfast
Neil Perkes is a state registered Osteopath in Belfast and has been in practice since 1998. Neil completed a 4 year degree in Osteopathic Medicine graduating from the British College of Osteopathic Medicine in 1998.
Neil has worked in Osteopathy clinics in Bangor, Dundee, Aberdeen, Killinchy and Comber. In 2003 he began training in Bio Cranial Therapy with Dr. Robert Boyd the founder and developer of Bio Cranial.
Neil uses Osteopathy, Cranial Osteopathy and Bio Cranial Therapy to help people suffering from a wide range of health issues.
Including:
Back Pain, Sciatica, Neck Pain, Shoulder Pain, Tennis Elbow, Migraine, Headaches, Fibromyalgia, Sports Injuries and many others conditions.
OSTEOPATH BELFAST
If you would like to discuss if your condition can be helped by Bio Cranial Therapy or Osteopathy please phone us on 02891 871334.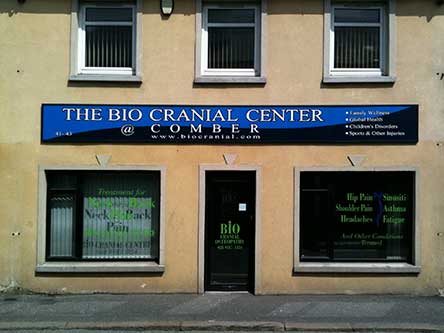 BACK PAIN TREATMENT
Neil has been successfully treating people from all over Northern Ireland with back pain for almost 18 years. The approach used is effective and gentle. Neil uses a wide range of treatment techniques to get patients better, pain free and back to their daily lives as quickly as possible.
BIO CRANIAL THERAPY
Bio Cranial Therapy was evolved from the principles of Cranial Osteopathy by Robert Boyd. The treatment successfully treats patients of all ages. It helps the body function at its optimum and helps many general health problems from back problems to fibromyalgia and energy issues.
CRANIAL OSTEOPATHY
Neil has been using Cranial Osteopathy to successfully treat patients in Northern Ireland for over 10 years when he first completed post graduate training in the Cranial field.
FIBROMYALGIA TREATMENT
Neil has a particular interest in treating patients with Fibromyalgia. The approach used is mainly based on Bio Cranial Therapy developed by local Osteopath, Dr. Robert Boyd.
Bio Cranial Osteopath Belfast Gallery
Bio Cranial Osteopath Belfast Products & Services
Osteopath Belfast
Back Pain Treatment
Fibromyalgia Treatment
Cranial Osteopathy
Sports Injury Treatment Belfast
Migraine & Headache Treatment
Reviews of Bio Cranial Osteopath Belfast

Testimonial
Leah
I can't recommend this treatment highly enough. And praise the work of the late Doctor Robert Boyd (founder) and Neil, I have had significant help over the years, from relief of severe headaches....back/neck ache, numbness in fingers from back ache. Blood pressure to which I still keep under control by having this fantastic treatment. Thank you.

Testimonial
Deborah
I've had 3 , 30 minute sessions, with Neil for my Siatica & drop foot and each time my improvement in pain & walking has been instant. The improvements during the weeks after , following his instructions of pain management & exercise, have helped 30% each time. I'm pain free today and functioning well. I highly recommend him. Thank you Neil x

Review
Karl Knox
Highly recommend this to anyone I do a lot of physical training so need to be right so have another appointment booked for next week

Review
Michelle McClelland
I cannot believe how much this treatment has changed my life. I no longer have to take a handful of painkillers every day. Having suffered with Fibromyalgia and spinal problems for many years and having tried various other treatments, with no relief, I had resigned myself to the fact that I would just have to put up with the pain. I am eternally grateful to Neil and could not recommend his practice highly enough.
Bio Cranial Osteopath Belfast
5

out of

5
based on
2
ratings.
2
user reviews.
Location Map of Bio Cranial Osteopath Belfast