19/01/2020
NORTHERN IRELAND ON THE INTERNET
Address
54b Roguery Road,
Toomebridge
Antrim
County Antrim
BT41 3TJ
About Northern Farm Supplies Ltd
Animal Rubber Matting in Ireland
Welcome and thank you for visiting.
When it comes to farm supplies, Northern Farm Supplies Ltd is the only place you need to go. From cow cubicles to feeder gates we have got it covered. We specialise in animal rubber matting and horse and stable mats so if that is what you are looking for then you have come to the right place. Give us a call today to find out more.
Cow Cubicles in Northern Ireland
All our products are German manufactured which ensures that they are of the highest quality. Our cow cubicles, cow mats, cow drinkers and brushes will be exactly what you are looking for. Covering Toomebridge, Antrim we also travel (for your convenience) through the rest of the country and this includes Southern Ireland.
Many companies and farmers have come to know Northern Farm Supplies Ltd as an award winning company supplying innovative farm products across the whole of Northern and Southern Ireland. This is something which we are very proud of. Our small team are all considered experts in their field and we are always on hand to answer any queries that you may have.
Contact Us
If you would like any of the services below then please do not hesitate to get in touch today. You can give us a call from our number at the top of this page. Alternatively, you can send us a quick message via our handy
Contact Us
form and we will respond to you as soon as possible.
We look forward to hearing from you.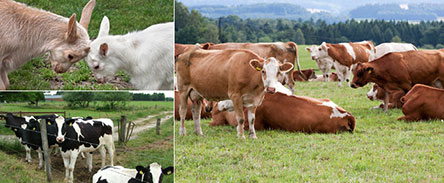 Cow Cubicles in Northern Ireland
NFS are always trying to set new standards with their products, the Patent C1 Cow Cubicles, Standard Cubicles and Wall mounted Cubicles, NFS calf pens complete with MIK plastic floors, Kraiburg Rubber Flooring Systems for Cattle and Pigs, German Krazzmaxx Automatic Cow Brushes, MIK plastic calf, pig and sheep slats, Suevia farmline products and drinkers and also a full range of Healthy Hooves foot bath treatments and Micron Silage, Maize, and Whole crop additives.
The NFS C1 Cow cubicle was designed by Kieran Mc Peake and tested by the South West College.
It is currently on three farms and the farmers like it because the cows have more confidence and room to lie down and have more room to exit the cubicle without any fear of slipping and falling. One of the farmers said that "it was the best cubicle in the yard", he has a second batch installed in a new cow house.
NFS are also the distributor for Kraiburg rubber flooring systems and are looking forward to the tranche 3 of the modernisation scheme.
All Kraiburg products are strenuously tested.
Farm Rubber Mats in Northern Ireland
'Don't slip up' when it comes to choosing your horses stable mat
NFS is confident that their rubber stable mats are the most economical and user-friendly equine matting solution on the market today. The mats also come at a fraction of the price of the leading brands, yet with no short-cuts on quality.
At NFS, we have listened to your comments, you asked for mats that are:
Low cost
Easier to lift and fit
No gaps between mats
Economical and hardwearing
Easy to sweep clean
Cattle Feed Gates in Northern Ireland
New Silo-Max Forage Treatments Increase Milk Production
A new enzyme technology developed by Micron Bio-Systems increases milk production by up to 3 litres a day or can cut feed costs by the use of improved home grown forages. Micron's new "Silo-Max" range of forage additives contains a breakthrough enzyme combination.
The new combination separates the energy-containing cellulose from the lignin. At the same time, the sugars released are utilized by the silage bacteria to produce lactic acid, other volatile acids, and an increased rate of digestibility of the forage. This increase in microbial activity also fixes nitrogen containing compounds into the highly digestible microbial protein that is essential in milk production.
Northern Farm Supplies Ltd Gallery
Northern Farm Supplies Ltd Products & Services
Rubber Mats
Animal Rubber Mats
Equestrian Rubber Mats
Dairy Rubber Matting
Pig Rubber Mats
Silage Additives
Animal Supplements
Cow Cubicles
Calf Pens
Cow Pens
Reviews of Northern Farm Supplies Ltd

Testimonial
Seamus
Many thanks to Kieran for fitting rubber mats to by cow shed a few months back. A great job and a great service. Would definitely recommend.
Location Map of Northern Farm Supplies Ltd