28/06/2022
NORTHERN IRELAND ON THE INTERNET
Address
171 Ballycorr Road
Ballyclare
County Antrim
BT39 9DF
About Clare Trailers
Clare Trailers is long established in trailer sales for over 25 years, and is based in Ballyclare, County Antrim, Northern Ireland. We service customers throughout Ireland.
We specialise in the complete IFOR Williams range, especially horse boxes and livestock trailers. We also stock flat-bed & tilt-bed trailers, tipper trailers, general purpose trailers and car transporters.
As well as our extensive range of Ifor Williams Trailers, we also have a wide range of used trailers of other makes in horse trailers and livestock trailers. In addition, we supply a range of horse lorries, both new build and used.
We aim to completely satisfy our customers, and therefore can offer various sizes of livestock, flat-bed, tilt-bed, tippers and general purpose trailers to suit your own personal requirements.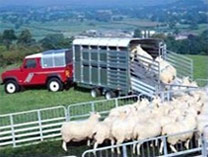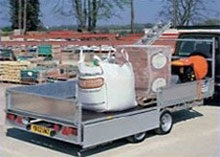 We pride ourselves on our ability to supply extensive sales, after sales, parts, servicing, parts exchange and a wide choice of related products. On occasion, some quality used trailers are available, although very often demand exceeds availability.
The key to the success of our business is that we aim to offer the best quality products available, at competitive prices, while still delivering excellent customer service.
Nugent Horseboxes
Donnelly Agricultural Trailers
Agricultural Tractor Trailers
Humac Link Boxes, Rollers, etc.
HORSE BOXES
At Clare Trailers Northern Ireland, we supply the full range of single and double IFOR Williams Horse Boxes, as well as used horse boxes.
Ifor Williams horseboxes come with a high-grip front and rear ramp for safe loading and unloading, and inside the horsebox the side walls are protected by tough polypropylene kickboards.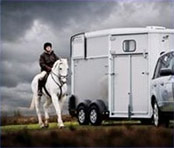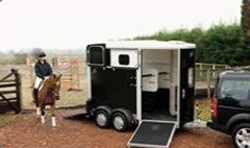 LIVESTOCK TRAILERS
We supply the full range of IFOR Williams Livestock Trailers, as well as used trailers.
If you are a livestock farmer, we have trailers to suit your every need, from sheep and pigs to cattle and prize bulls. The renowned EasyLoad™ sheep deck system makes loading your livestock easy and trouble free.
BOX VAN TRAILERS
Box vans are available in three heights, widths and lengths. Smaller models are available with either single or twin axles. Most models come with roller shutter, combination ramp doors or van rear doors, making them suitable for all purposes. White-coated side panels are tough and easy to clean. All trailers feature a tapered front section, giving you more space and reducing the drag, with resulting increase in fuel economy over long distances.
COMMERCIAL TRAILERS
Clare Trailers can supply the full range of Ifor William Commercial Trailers, including Tipper Trailers, Beavertail Trailers, Tilt-Bed Trailers, Flat-Bed Trailers, General Duty Trailers and Plant Trailers.

Customer Testimonials
Great guy to deal with and very honest. Bought our new horse trailer today. Thank you.
-Lindsay Rose Martin
Clare Trailers Products & Services
Ifor Williams Trailers Northern Ireland
Ifor Williams Trailers
Horse Boxes
Sheep Trailers
Cattle Trailers
Flat Bed Trailers
Tilt-bed Trailers
Tipper Trailer
Car Transporters
Horse Lorries
Livestock Trailers
Box Van Trailers
Tippers
Commercial Trailers
Plant Trailers
Beavertail Trailers
Nugent Horse Boxes
Trailer Parts
Trailer Repair
Used Trailers
Location Map of Clare Trailers

Allparts NI is a leading supplier of Tractor plant & Agri spares based in NI supplying Ireland, the UK and Abroad. With over 20,000 replacement parts and counting we hope you will find your replacement part at a very competitive price.
Agricultural turbo's
Digger Bucket Teeth
Undercarriage Spares
Machinery Spares
Final drive parts
Comer gear boxes
www.allpartsni.com

G.A. Allen specialise in agricultural machinery sales, parts and service. G.A. Allen is the main agent for:
Deutz Fahr
McHale
Peecon
Tulip
Lely
Kuhn
Strautmann
and Hardi to name a few.
gaallen.com