06/12/2021
NORTHERN IRELAND ON THE INTERNET
30/10/2015
Top Spooky Events in NI This Halloween
"Halloween's coming! Halloween's coming! Skeletons will be after you! Witches cats and big, black bats, ghosts and goblins too!"
Whether you want funfairs and fireworks, or paranormal tours and live zombie paintball, NI is home to officially the world's best Halloween event, as voted by USA Today. We do many things well, and Halloween is no exception...
Rise Of The River Gods In The City of Bones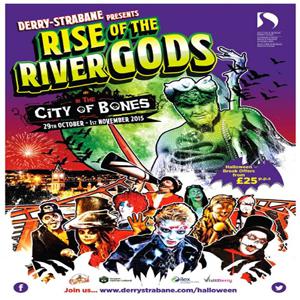 Voted the world's best Halloween destination by USA Today, L'Derry takes the spooky season very seriously. From 29 October to 01 November the city offers a bigger and busier programme of events than ever before. Coupled with the addition of the rise of the ghostly River Gods from the Foyle and further afield, it's set to be a week awash with devilish activities for all to experience.
The city and district will be full of tricks and treats galore – with the return of the gruesome 'Chateau le Fear' and the incredible spectacle of 'Awakening of the Walls', and the addition of the 'Rio Bravo Fiesta' celebrating Dia de los Muertos (Day of the Dead) hosted by the Craft Village!
For a full list of events go to
the council website
.
Halloween Monster Mash & Fireworks Display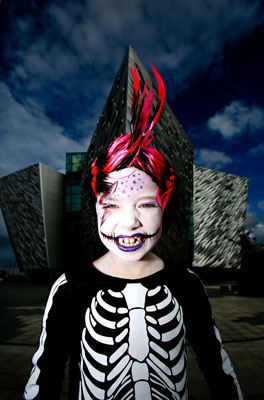 In Belfast the big things are happening in the Titanic Quarter, all culminating in a fireworks display. Beginning at 4pm, the entertainment line-up will feature:
street theatre and walkabouts
breathtaking fire shows and jugglers
face painting
wicked workshops
fairground rides
on stage live music
a range of hot food, drinks, sweets and Halloween fancy goods available for purchase
Free Metro buses will run from the city centre.
Full information can be found on the
Belfast City Council website
.
Paranormal Tours at Crumlin Road Gaol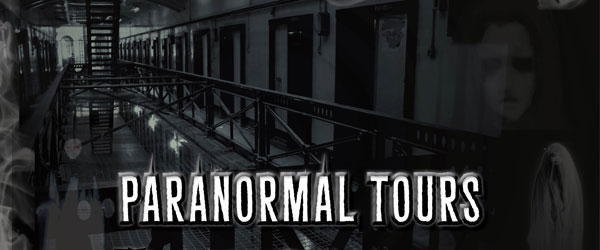 A special 60 minute tour focusing on paranormal "hotspots" throughout the Gaol, with a guide to tell the harrowing tales associated with those parts of the historic building.
More info at
crumlinroadgoal.com
Halloween Family Festival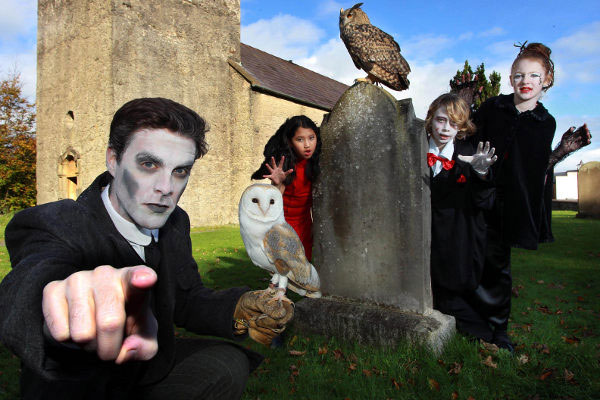 "A mysterious adventure through the Ulster Folk & Transport Museum Cultra's misty rural dwellings and dark train carriages." More info at
nmni.com
Fright Night at Jungle NI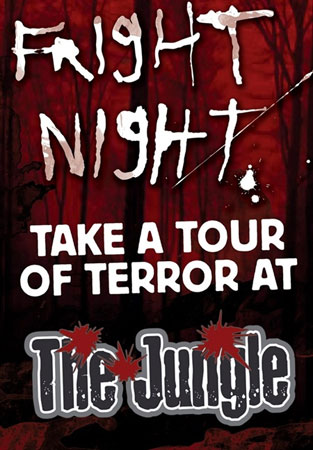 This year, Jungle NI are offering six different, themed "attractions", including the Circus, the Inbred Horror House, Live Zombie Paintball, Freaky Forest, Hellish Haycart and the Cornfield.
Full information, including prices and times, is available at the
Jungle NI Fright Night website
.
---
Latest Northern Ireland Features
06 July 2021
Fun And Thrills Of NI's Outdoor Adventure Centres
School is out for the summer and while overseas adventures may be limited, there's no better time to make the most of the best Northern Ireland has to offer. Whether you fancy a weekend away or just a day trip with the family, the region's outdoor activity centres have a bit of everything for all ages.
12 March 2020
Explore NI's Stunning Walking Trails
As another year of spring approaches, the brighter days are a new chance to get in shape, enjoy the fresh air and explore your local area.
05 March 2020
Marathon Season Fixtures
For the runners among us, brighter days and hints of spring can mean only one thing; it's time to get the trainers as on as marathon season is just around the corner.
30 January 2020
Explore NI's Stunning Walking Trails
It's a new decade and a new chance to get in shape, enjoy the fresh air and explore your local area. While this may sound mediocre compared to the holidays we're all currently dreaming of booking, Northern Ireland is dotted with stunning coastlines and mountain plains that quite frankly don't get the credit they deserve.
06 January 2020
January Money Saving Tips
Whether you're starting back to work, participating in 'Dry January' or hitting the gym with a new fitness regime, January is the month when many of us decide to turn over a new leaf.
18 December 2019
Belfast Pubs To Visit This Festive Season
Whether you're planning a quiet catch up with family and friends, hoping to dance the night away or heading out on a 12 pubs of Christmas night out, it's always good to have a selection of decent bars and pubs up your sleeve for the festive season.
13 November 2019
Your Guide To Northern Ireland's Christmas Markets
It's that time of year again, and the Christmas countdown will soon be on. As the streets begin to sparkle with festive lights, the annual tradition of wrapping up warm and browsing the local Christmas market becomes top of the to-do-list again.
31 October 2019
Get Organised This Christmas
Halloween is all but gone and whether we like it or not, the Christmas countdown will soon be upon us.
14 October 2019
How Best To Spend Your Halloween
With a definite chill in the air and a layer of crunchy leaves lining the streets, the signs of Autumn couldn't be clearer. The new season can only mean one thing though, and Halloween is definitely upon us.
03 September 2019
Tour The Finest Local Cuisine With 'Taste the Island'
An extensive range of local foodie events will give people the opportunity to 'Taste the Island' over the next 12 weeks in a celebration of the region's finest food and drink, tasty experiences and scrumptious adventures.