24/08/2019
NORTHERN IRELAND ON THE INTERNET
17/12/2015
Top Five Hotels To Enjoy Christmas Dinner In NI
Instead of standing over a hot stove why don't your family and friends celebrate the festive period in style this year by visiting one of the many great venues throughout Northern Ireland.
Just imagine, turkey, stuffing and all the trimmings and you don't have to lift a finger!
And to make things easier for you to decide where to visit, we have compiled a list of the top five restaurants in NI serving the best Christmas dinners this year.
The Fitzwilliam Hotel – Belfast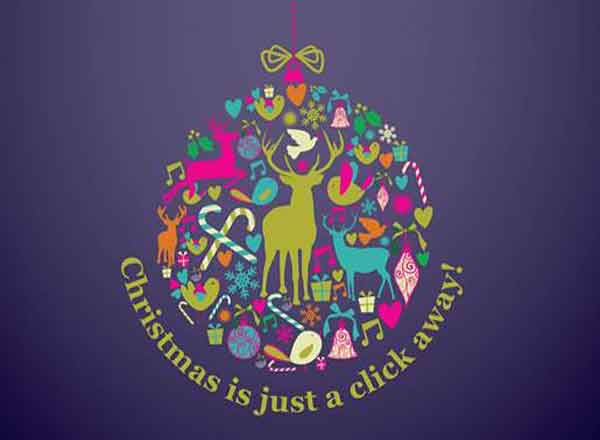 Situated right in the heart of Belfast city centre the beautiful Fitzwilliam Hotel promises to make your Christmas Day 'magical'.
Why don't you wake up to a wonderful Champagne breakfast while the kids get a visit from Santa Claus!
The hotel has created a five course gourmet menu, including slow confit duck leg for starters, Turkey with sage and onion stuffing rolled in streaky bacon with ham hock for mains, and enjoy the traditional Christmas pudding with sumptuous Whiskey Anglaise and Vanilla ice cream followed by tea and coffee.
To view their extensive menu, including vegetarian options, click
here
.
New Year At The Fitzwilliam Hotel
If you and your family are unable to make it for Christmas or perhaps you had so much fun you cannot wait to go back you could book The Fitzwilliam Hotel to celebrate the New Year.
The restaurant can provide a 4 course evening meal with as much champagne as you like, entertainment will be provided in the evening and of course the unforgettable count down to 2016.
On New Year's Day the hotel will be holding a late breakfast until 1pm.
The Fitzwilliam Hotel
Roe Park Resort – Limavady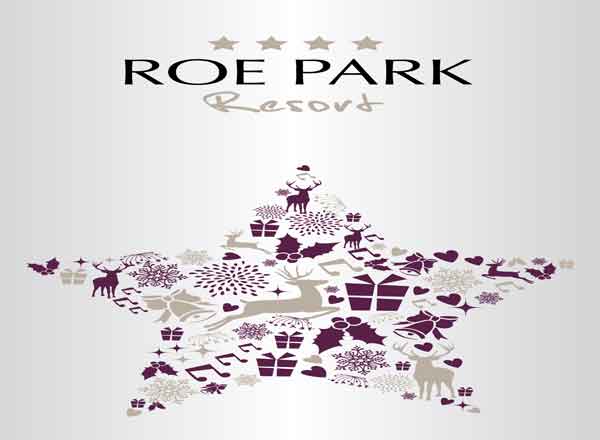 The Roe Park Resort in Limavady not only has two restaurants but also features a golf course, a swimming pool and if you really want to pamper yourself, onsite spa facilities.
A traditional full buffet breakfast will be served on Christmas morning followed by a carvery lunch in Green's Restaurant or the Roe Park Suite.
The Christmas dinner menu at Green's Restaurant includes Oak smoked Irish salmon, creme fraiche, pickle cucumber with dill salad, followed by slow cooked sliced belly of pork and baked vanilla cheesecake with passion fruit glaze.
On Christmas night visit O'Cahan's Bar where a live band will be playing. Speaking exclusively to 4ni a spokesperson said: "Eat, drink and be merry this Christmas at the Roe Park Resort. Enjoy the festivities and delicious delights in both the Coach House Brasserie and Greens Restaurants catering for couples, groups and families. "We look forward to welcoming you over the holidays for your own 'Roe Park Christmas Experience'."
To view their extensive menu, including vegetarian options, click
here
New Year At The Roe Park Hotel
To celebrate the New Year enjoy a pre-drinks reception and canapés before your evening meal at one of their two restaurants.
Live music will also be playing at O'Cahan's Bar and to bring in the New Year enjoy the majestic sounds of a Bagpiper. There will also be a disco for the kid's.
Click on the link below and book now to bring in the New Year with all of your family.
The Roe Park Hotel
The Merchant Hotel – Belfast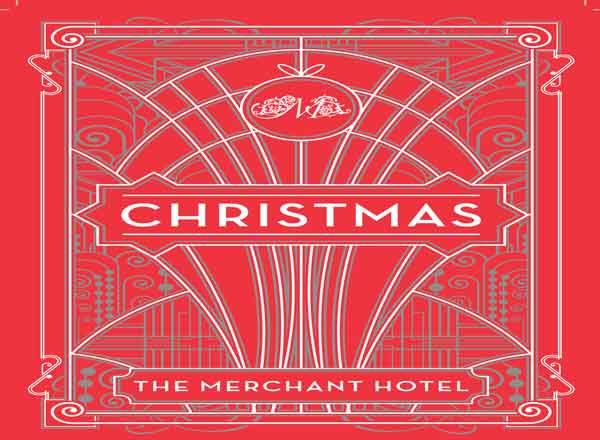 Celebrate a magical Christmas at the beautiful Merchant Hotel with a number of festive offerings. On arrival enjoy a glass of bubbly served with a selection of canapés before moving into The Great Room Restaurant.
Treat your pallet to seared scallops in a carrot puree for starters, and if you want something other than the traditional turkey the Salt-Aged Rib-Eye steak is also on offer and will be cooked to your liking, served with a selection of vegetables and potatoes. For a perfect ending, try the profiterole swan served with warm chocolate sauce and vanilla ice cream.
The hotel also has many featured rooms including their unique Art Deco rooms, Victorian rooms, or experience glamour and timeless elegance of the Victorian Suites.
To view their extensive menu, including vegetarian options, click
here
New Year At The Merchant Hotel
Why not celebrate the New Year at Berts Jazz Bar or the Cloth Ear? With two choices available you are sure to bring the New Year in style.
A four course supper is available at the Jazz Bar, and it is of course accompanied by an extraordinary live jazz band. Or if you prefer a more relaxed setting make your way to the Cloth Ear where a Resident DJ will be knocking out the latest hits all night.
The Merchant Hotel
The Culloden Hotel - Holywood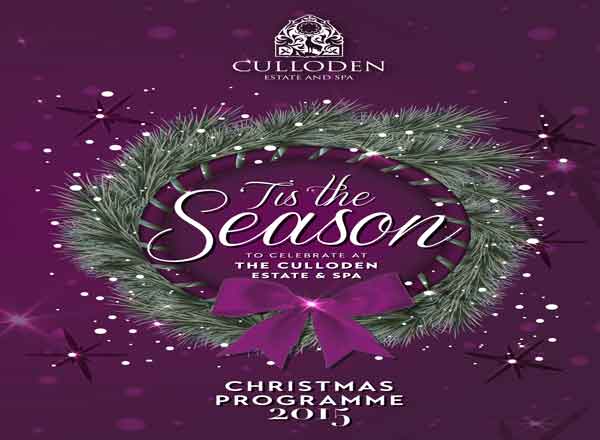 The beautiful Culloden Hotel is the perfect place to celebrate Christmas with family and friends. Its Christmas Day lunch is available in the Stuart Suite, Mitre Restaurant and Cultra Inn. The hotel guarantees a wondrous feast for all of the family with the arrival of Santa, who will be bearing gifts for all. Light entertainment will also be available in the Mitre Restaurant.
The Culloden Hotel
New Year At The Culloden Hotel
Welcome in 2016 with a glass of mulled wine and some homemade treats on arrival. A champagne and canapé reception will be available from 7pm before enjoying a "gastronomical feast" at 8pm.
Live music will be playing and a Bagpiper will lead the farewell to the old and welcome to the New Year.
Or you can bring the in the New Year at the Cultra Inn. A Table d'hôte menu will be available from 7 - 9.30pm and guests can enjoy live musical entertainment.
The Culloden Hotel
Ten Square Hotel – Belfast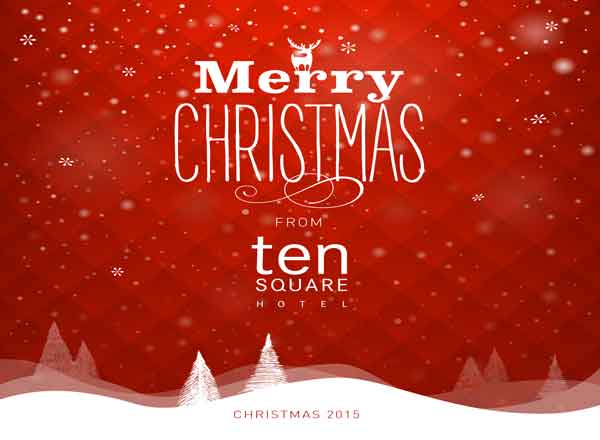 This exclusive hotel is situated in the heart of Belfast City Centre and is a perfect setting to celebrate Christmas in style.
Tempt your tastebuds with a hearty winter vegetable soup, followed by a Northern Irish Sirloin steak served with traditional roast potatoes, buttery mash and vegetables, and for dessert the Bailey's Cheesecake.
To view their extensive menu, including vegetarian options, click
here
New Year At Ten Square Hotel
Ring in 2016 at the Tens Square hotel where a resident DJ will be playing the latest tunes and there will also be an exclusive balloon drop at midnight to really burst your bubble!
The hotel features 23 guest rooms, from standard rooms to deluxe rooms if you would like to spend the weekend with your partner and family. Each of the guest rooms features warm, rich cream carpets, super king low slung beds, plush linens, opal glass inset shutters and elegant free-standing wardrobes.
Free wifi is also available in all of the rooms and throughout the hotel.
Ten Square
---
Latest Northern Ireland Features
31 July 2019
Open House Festival Returns To Bangor
A celebration of culture, creativity, people and passion- Bangor's Open House Festival is back for the seventh year with a bigger and better programme of concerts and events.
08 July 2019
Activity Ideas To Fill Your Summer
'School's out for summer' are words every child and teacher longs to hear, but the holiday period isn't always as joyful for parents. The unpredictable weather, inevitable boredom and complete lack of routine can have many mums and dads wishing their little ones were back at school come the second week of July.
20 May 2019
What's On Spring-Summer 2019
As the evenings stretch out and temperatures begin to soar this spring, calendars are filling up with holidays, concert dates and day trips across Northern Ireland. Whether you're hoping to plan an exciting Bank Holiday weekend, a fun day out for the family or a culture-filled tour, there's plenty on offer right through the summer.
07 May 2019
A Weekend At The North West 200 Races
Northern Ireland is the proud home of motorcycle racing on closed public roads and every May the picturesque setting of the Causeway Coast is showcased on the world stage as one of sport's most spectacular events- the International North West 200.
26 April 2019
Belfast City Marathon: Race & Travel Info
The largest single participatory sporting event in Northern Ireland is set for a massive year of change with a brand new, flatter and faster route for marathon participants, a new marathon start location on the grounds of the iconic Stormont Estate and a historic move to a Sunday for the first time ever.
27 March 2019
Explore NI's Top Game Of Thrones Locations & Experiences
The excitement is building among Game of Thrones fans with the final season set to air in only a matter of weeks. Living in Northern Ireland, we're lucky enough to have the majority of its filming locations right on our doorstep, from the northern lands of Winterfell to the southern island of Dragonstone.
07 February 2019
Where To Dine This Valentine's
As the most romantic day of the year approaches, eateries across Northern Ireland are promoting their best deals and fine wines in a bid to host loved-up couples for Valentine's.
18 January 2019
Family Activities To See You Through Winter
Rather than wallowing in the January blues, a New Year is a perfect time to renew your sense of adventure and plan some fun-filled activities to enjoy with your family.
02 January 2019
January Money Saving Tips
As well as the complete loss of Christmas cheer, January can be particularly challenging in terms of money. Even if you funded the festive period without running up a host of credit card bills, the month of indulgence can still leave a money hangover to be dealt with in the New Year.
Northern Ireland Weather

Today:

Mainly dry and bright in the east with the odd sunny break through Antrim and Down. Cloudier skies in the west, perhaps some showers through Fermanagh and up to Lough Foyle. Feeling warm in any sunshine, winds mostly light. Maximum temperature 22 °C.

Tonight:

Any showers in the west dying out with the cloud thinning and breaking. Some low cloud and mist forming and winds remaining light. Minimum temperature 10 °C.