28/09/2021
NORTHERN IRELAND ON THE INTERNET
24/02/2017
Motoring Laws You May Have Forgotten...
Earlier this month the PSNI announced a major crackdown on "vehicles causing an obstruction", which ranges from parking on yellow lines, blocking access to driveways, obstructing the pavement and more.
In their official statement, the PSNI said: "Everybody does it. We throw the car up on a kerb thinking we're doing the best thing by keeping the road clear. But this has a direct impact on pedestrians and that impact is only made worse for someone with mobility issues."
You see it everywhere. Who doesn't park on the pavement, because as the police said, you are trying to keep the road as clear as possible. But be warned, the PSNI will be taking more action.
This got us wondering... What other motoring offences might we have missed, or more accurately, forgotten? What else might become the focus of a crackdown? We decided to scour the Highway Code and highlight some things you might not know.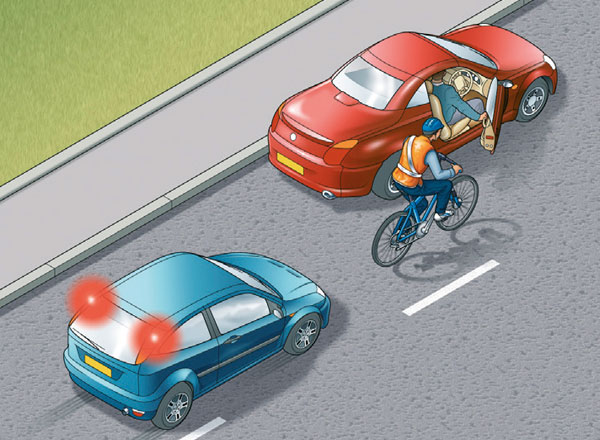 Let's start with simple parking, as it's not just causing an obstruction you need to be aware of.
The Code states: "Use off-street parking areas, or bays marked out with white lines on the road as parking places, wherever possible." The key phrase there of course is "where possible", any driver will know how infrequently this is the case, and who hasn't just pulled in somewhere because they're
"only going to be a minute"
.
However, if you have to stop on the roadside, did you know that you 'must not park against the traffic flow'?
The list continues:
do not stop too close to a vehicle displaying a Blue Badge, remember, the occupant may need more room to get in or out
you must switch off the engine, headlights and fog lights, &
you must ensure you do not hit anyone when you open your door - check for cyclists or other traffic
There are also specific rules for parking at night: You must not park on a road at night facing against the direction of the traffic flow unless in a recognised parking space. Also, all vehicles must display parking lights when parked on a road or a lay-by on a road with a speed limit greater than 30 mph (48 km/h).
Car Horn
A lot of drivers know that there are rules on the use of a car's horn, but don't know exactly what they are; the law states: "Use only while your vehicle is moving and you need to warn other road users of your presence". This could mean blind bends or on bridges. The law also states that "it is an offence to sound your horn aggressively".
You also must not use your horn:
while stationary on the road
when driving in a built-up area between the hours of 11.30pm and 7.00am, except when another road user poses a danger.
Hazard Lights
Who hasn't put theirs on when parking "for just a minute", thinking that is what they are there for. However, the Highway Code states they are never to be used "as an excuse for dangerous or illegal parking".
Perhaps surprisingly, hazard lights are not to be used while your vehicle is being towed; this is only permissible if "you are on a motorway or unrestricted dual carriageway and you need to warn drivers behind you of a hazard or obstruction ahead', and even then they should only be used 'for long enough to ensure that your warning has been observed".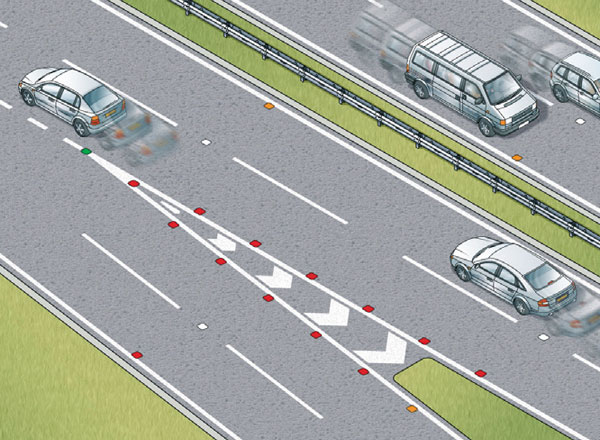 Road Markings
Any regular road user will know our roads come with a large number and variety of road markings, which can be confusing even for the most conscientious of drivers.
A quick refresher:
Broken white line
This marks the centre of the road. When the line lengthens and the gaps shorten, it means that there is a hazard ahead.
Double white lines where the line nearest to you is broken
This means you may cross the lines to overtake if it is safe, provided you can complete the manoeuvre before reaching a solid white line on your side; white direction arrows on the road will indicate that you need to get back onto your side of the road.
Double white lines where the line nearest you is solid
This means you must not cross or straddle it unless it is safe and you are turning into a side road or adjoining premises. You may cross the line if necessary, provided the road is clear, to pass a stationary vehicle, or overtake a pedal cycle, horse or road maintenance vehicle, if they are travelling at 10 mph (16 km/h) or less.
Of course, there is the 'Lane Divider', short broken white lines used on wide carriageways to divide them into lanes, on which the Code helpfully states: "You should keep between them".
Stopping Procedures
It is not just the police who have the power to stop your vehicle on the road. Driver & Vehicle Agency Enforcement (DVAE) Officers also have the power to stop vehicles on all roads, including motorways. The main difference in procedure is the lights.
Police will, where possible, attract your attention by:
flashing blue lights or headlights or sounding their siren or horn, usually from behind
directing you to pull over to the side by pointing and/or using the left indicator
You must then pull over and stop as soon as it is safe to do so and switch off your engine.
DVAE officers will attract your attention by flashing amber lights:
either from the front requesting you to follow them to a safe place to stop
or from behind directing you to pull over to the side by pointing and/or using the left indicator
The Code states that it is an offence not to comply with such directions and that you must obey any signals given.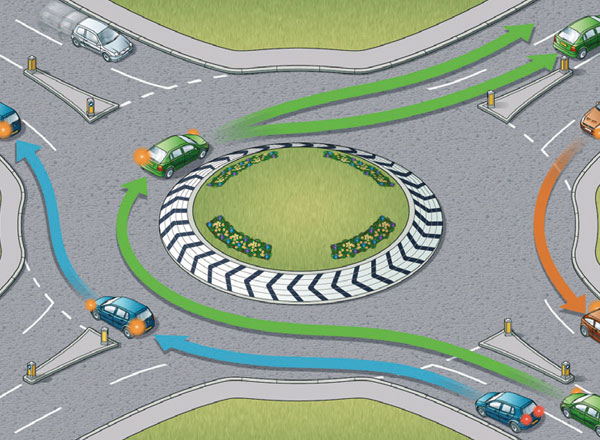 All of the previous rules and laws and have been in existence for some time, and as a qualified driver is all the information you should have, at one time, known. On 12 January last year, a number of new road safety measures were introduced in NI. Here is a quick recap of the most recent changes.
Drink Driving
Two new lower drink driving limits were introduced, with one specifically for novice and professional drivers.
Under the new legislation, a limit of 50mg of alcohol per 100ml of blood will apply 'most drivers', while novice and professional drivers will have a limit of 20mg per 100ml. This has been reduced from 80mg/100ml.
Drivers no longer have the right to opt for a blood or urine sample to replace a breath sample in cases where the breath sample is marginally above the prescribed limit.
Offenders will now also be automatically referred to a drink driving course, unless a District Judge rules against it. However, while the referral will be automatic, attendance will remain voluntary.
Learner Drivers
Learners will now be required to complete a mandatory six-month minimum driving period, to be evidenced by an Approved Driving Instructor/supervising driver within a student logbook.
However, the 45mph restriction for learner and restricted drivers has been removed, enabling lessons to include motorway driving.
Finally...
Smoking In Cars
In February 2016 the NI Assembly voted to ban smoking in private vehicles carrying children, however, no legislation has yet been enacted. In January this year, Health Minister Michelle O'Neill launched a consultation on the proposal, which is ongoing.
It is proposed that existing legislation, as set out in the Smoking (Northern Ireland) Order 2006, is extended to make it an offence to:
Smoke in a private vehicle with someone under 18 present
Fail to prevent smoking in a private vehicle with someone under 18 present
The consultation runs until 03 March.
(MH)
---
Latest Northern Ireland Features
06 July 2021
Fun And Thrills Of NI's Outdoor Adventure Centres
School is out for the summer and while overseas adventures may be limited, there's no better time to make the most of the best Northern Ireland has to offer. Whether you fancy a weekend away or just a day trip with the family, the region's outdoor activity centres have a bit of everything for all ages.
12 March 2020
Explore NI's Stunning Walking Trails
As another year of spring approaches, the brighter days are a new chance to get in shape, enjoy the fresh air and explore your local area.
05 March 2020
Marathon Season Fixtures
For the runners among us, brighter days and hints of spring can mean only one thing; it's time to get the trainers as on as marathon season is just around the corner.
30 January 2020
Explore NI's Stunning Walking Trails
It's a new decade and a new chance to get in shape, enjoy the fresh air and explore your local area. While this may sound mediocre compared to the holidays we're all currently dreaming of booking, Northern Ireland is dotted with stunning coastlines and mountain plains that quite frankly don't get the credit they deserve.
06 January 2020
January Money Saving Tips
Whether you're starting back to work, participating in 'Dry January' or hitting the gym with a new fitness regime, January is the month when many of us decide to turn over a new leaf.
18 December 2019
Belfast Pubs To Visit This Festive Season
Whether you're planning a quiet catch up with family and friends, hoping to dance the night away or heading out on a 12 pubs of Christmas night out, it's always good to have a selection of decent bars and pubs up your sleeve for the festive season.
13 November 2019
Your Guide To Northern Ireland's Christmas Markets
It's that time of year again, and the Christmas countdown will soon be on. As the streets begin to sparkle with festive lights, the annual tradition of wrapping up warm and browsing the local Christmas market becomes top of the to-do-list again.
31 October 2019
Get Organised This Christmas
Halloween is all but gone and whether we like it or not, the Christmas countdown will soon be upon us.
14 October 2019
How Best To Spend Your Halloween
With a definite chill in the air and a layer of crunchy leaves lining the streets, the signs of Autumn couldn't be clearer. The new season can only mean one thing though, and Halloween is definitely upon us.
03 September 2019
Tour The Finest Local Cuisine With 'Taste the Island'
An extensive range of local foodie events will give people the opportunity to 'Taste the Island' over the next 12 weeks in a celebration of the region's finest food and drink, tasty experiences and scrumptious adventures.
Northern Ireland Weather

Today:

A mainly dry and bright start. Somewhat cloudier by afternoon especially in the east with scattered showers developing, these occasionally heavy. Winds easing in the afternoon. Maximum temperature 15 °C.

Tonight:

Most showers dying out and skies clearing, perhaps more cloud in the west. Freshening northwesterly winds will make it feel quite cool. Minimum temperature 7 °C.