24/06/2018
NORTHERN IRELAND ON THE INTERNET
30/06/2017
Foot Sports NI Fun Day
The UK's only football-themed fun fair, Foot Sports NI, has announced a Fun Day taking place on Saturday 08 July at the Hanwood Centre in Dundonald.
Featuring all the best of Footsports NI's offerings including 'Bubble Football', 'Foot Darts', Foot Pool', 'Foot Tennis', 'Human Football', 'Beer Goggle Football', in fact pretty much anything you can add a football too is being catered for. Promising an "epic day out", you're invited to test your skills against some of Foot Sports NI's Fifa inspired games, try to set and beat high scores and win cash prizes. 
 The organisers have also announced the all new Foot Sports Challenge!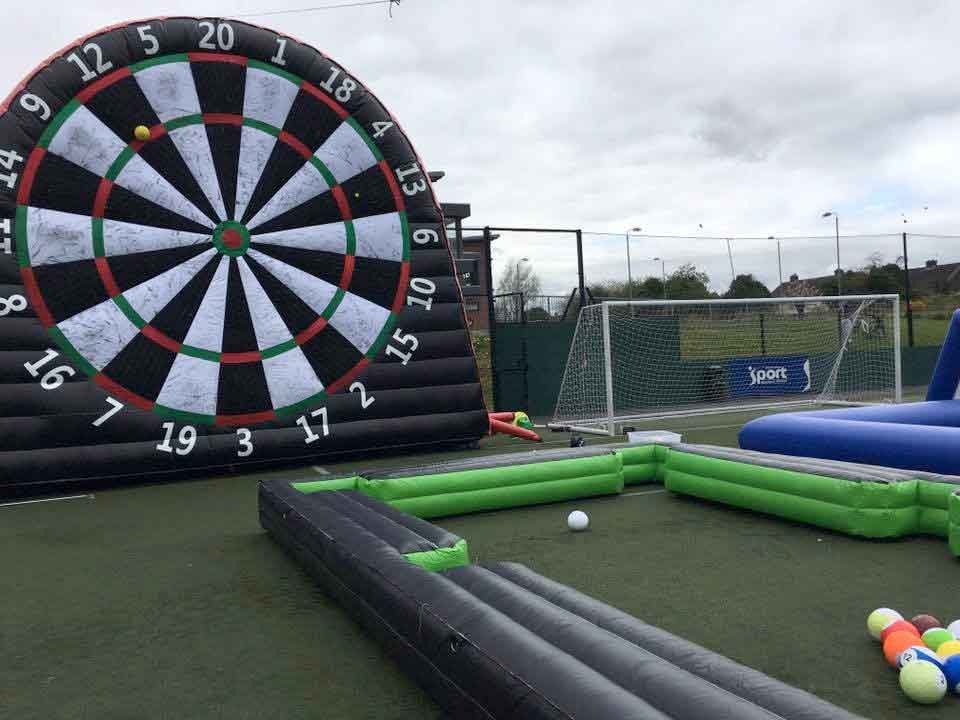 The objective is simple: play a special five-game challenge and keeping track of your score throughout the day, then... the overall highest score achieved on the day will be awarded a special prize!
Game 1: Top Bins - 3 balls, 3 bins with scores assigned to each bin, put the ball in and tally your score
Game 2: Foot Darts - 5 balls, land all 5 balls on the board & calculate your score
Game 3: Penalty Shootout - 3 balls - each goal is worth 50 points. Score all 3 for a bonus 50 points
Game 4: Sharpshooter - 3 balls, 3 free kicks, 1 wall, 5 targets, put the ball over or round the wall & hit the targets, calculate your score
Game 5: Speed Radar - 1 ball, 1 strike to see how hard you strike the ball - score in mph is your score for the game
Foot Sports are NI's Football-based party experts who not only have organised the UK's first ever football-themed fun fair, but offer a range of activities and equipment that you can rent for your own event. They offer full community packages and cover fairs & festivals or even just a birthday party. They pride themselves in taking traditional games and making them wacky. They invite you to "make your event a memorable one" with their range of highly enjoyable games for all ages.
Foot Sports NI Fun Day takes place on Saturday 8 July, at The Hanwood Centre, Dundonald, from midday until 5pm. Admission is free. 
 For more information on Foot Sports NI, and to view their range of games and hire equipment, go to
footsportsni.co.uk
and find them on
Facebook
.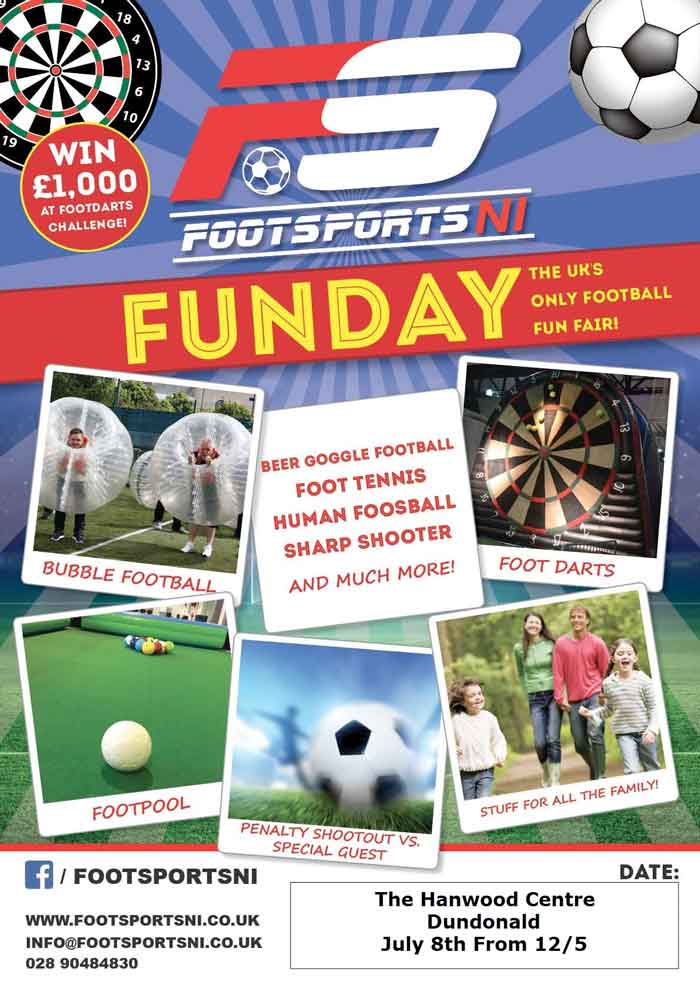 ---
Latest Northern Ireland Features
12 June 2018
Convertible Cars On A Budget
The convertible car; an absolute must-have for sunshine driving. With sunny days a strange and rare occurrence in this country, it's fair to say when the weather is this good, owning a convertible car should go straight to the top of anyone's 'must buy' list.
08 May 2018
Must See Tourist Spots
When it comes to Northern Ireland tourist spots there are a lot of suggestions that can be made, from the historical landmark to the locations used for filming the likes of Game of Thrones - Below you'll find our recommended locations in NI which are a must see.
11 April 2018
Walking NI
With the weather getting ever better – with obvious exceptions made for when it decides to snow – we think it's time to reach into the back of the cupboard and bring forth the light anoraks and sturdy walking boots. Northern Ireland is spoilt for beautiful walking destinations.
26 March 2018
Easter Eggstravaganza
Is it finally here..? Can we really trust the sun..? It is so pleasing to finally feel it's warmth again, but how long will it last... Nonetheless, Easter is just around the corner and we encourage you to be bold and plan some fun, eggcellent (sorry!) adventures.
15 March 2018
St Patricks Day 2018
Top o' the morning to ye! Once again, the day is upon us where the streets will be awash with the colour green as we celebrate the life of everyone's favourite missionary, Saint Patrick. To celebrate the occasion, we've drawn up a list of some fun events happening around the Emerald Isle on 17 March...
29 January 2018
Moors, Shores and Sightseeing Tours
Whether you're an eager tourist, or a curious local, a well-planned and organised tour can be an excellent way to kill a few hours. It also seems in Northern Ireland, you'll be spoilt for choice.
09 January 2018
January Freebies
January is a long month. Long enough to dwell on just how much money you got through over the holidays, and just how long it is until next payday. But you don't have to sit around the house willing away the days because they are many and varied things you can do in and around the city for free.
19 December 2017
His & Her Christmas Gifts
It's that time of year again, when the air smells faintly of mulled wine and The Pogues get an ungodly amount of coverage across our radio waves. And of course, with Christmas comes those two words that are enough to strike terror into any man; gift shopping.
01 December 2017
Festive Favourites - Part One
Tis the season to be jolly... TRA LA LA LALA LA LA LAAAAA! Despite the particularly bad turn in the weather, this is still a time of year that drives people from their homes, and not just into the shops.