30/11/2021
NORTHERN IRELAND ON THE INTERNET
30/06/2017
Foot Sports NI Fun Day
The UK's only football-themed fun fair, Foot Sports NI, has announced a Fun Day taking place on Saturday 08 July at the Hanwood Centre in Dundonald.
Featuring all the best of Footsports NI's offerings including 'Bubble Football', 'Foot Darts', Foot Pool', 'Foot Tennis', 'Human Football', 'Beer Goggle Football', in fact pretty much anything you can add a football too is being catered for. Promising an "epic day out", you're invited to test your skills against some of Foot Sports NI's Fifa inspired games, try to set and beat high scores and win cash prizes. 
 The organisers have also announced the all new Foot Sports Challenge!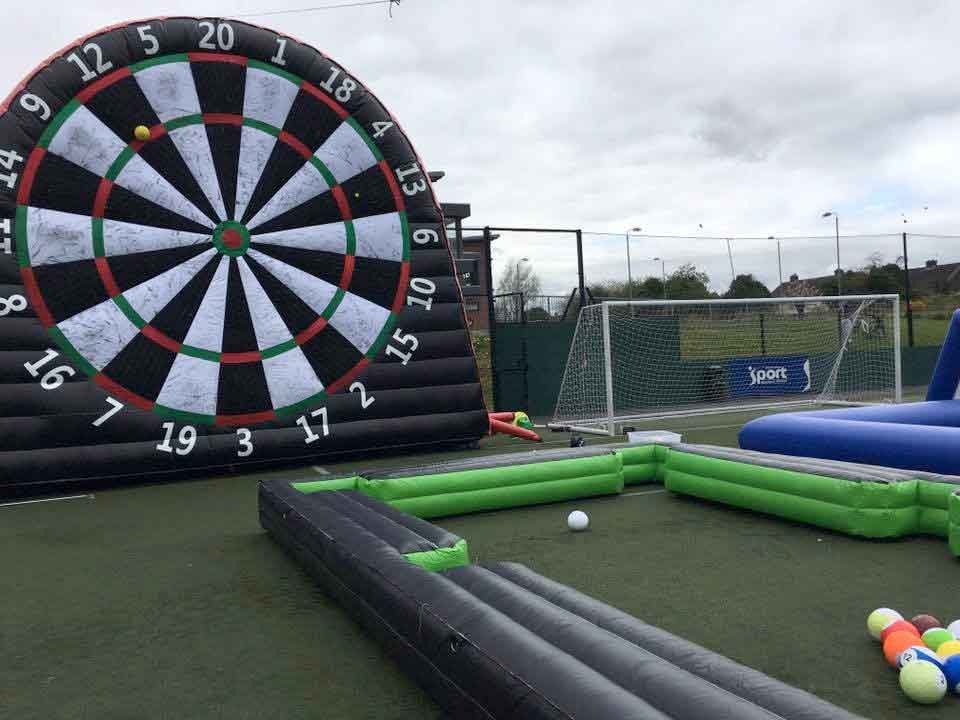 The objective is simple: play a special five-game challenge and keeping track of your score throughout the day, then... the overall highest score achieved on the day will be awarded a special prize!
Game 1: Top Bins - 3 balls, 3 bins with scores assigned to each bin, put the ball in and tally your score
Game 2: Foot Darts - 5 balls, land all 5 balls on the board & calculate your score
Game 3: Penalty Shootout - 3 balls - each goal is worth 50 points. Score all 3 for a bonus 50 points
Game 4: Sharpshooter - 3 balls, 3 free kicks, 1 wall, 5 targets, put the ball over or round the wall & hit the targets, calculate your score
Game 5: Speed Radar - 1 ball, 1 strike to see how hard you strike the ball - score in mph is your score for the game
Foot Sports are NI's Football-based party experts who not only have organised the UK's first ever football-themed fun fair, but offer a range of activities and equipment that you can rent for your own event. They offer full community packages and cover fairs & festivals or even just a birthday party. They pride themselves in taking traditional games and making them wacky. They invite you to "make your event a memorable one" with their range of highly enjoyable games for all ages.
Foot Sports NI Fun Day takes place on Saturday 8 July, at The Hanwood Centre, Dundonald, from midday until 5pm. Admission is free. 
 For more information on Foot Sports NI, and to view their range of games and hire equipment, go to
footsportsni.co.uk
and find them on
Facebook
.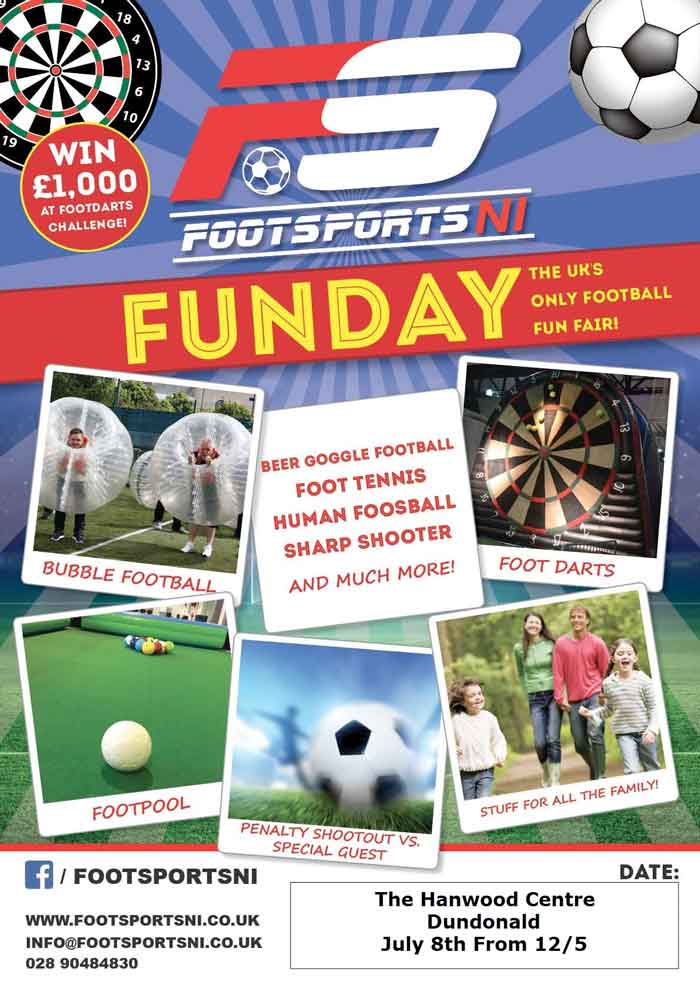 ---
Latest Northern Ireland Features
06 July 2021
Fun And Thrills Of NI's Outdoor Adventure Centres
School is out for the summer and while overseas adventures may be limited, there's no better time to make the most of the best Northern Ireland has to offer. Whether you fancy a weekend away or just a day trip with the family, the region's outdoor activity centres have a bit of everything for all ages.
12 March 2020
Explore NI's Stunning Walking Trails
As another year of spring approaches, the brighter days are a new chance to get in shape, enjoy the fresh air and explore your local area.
05 March 2020
Marathon Season Fixtures
For the runners among us, brighter days and hints of spring can mean only one thing; it's time to get the trainers as on as marathon season is just around the corner.
30 January 2020
Explore NI's Stunning Walking Trails
It's a new decade and a new chance to get in shape, enjoy the fresh air and explore your local area. While this may sound mediocre compared to the holidays we're all currently dreaming of booking, Northern Ireland is dotted with stunning coastlines and mountain plains that quite frankly don't get the credit they deserve.
06 January 2020
January Money Saving Tips
Whether you're starting back to work, participating in 'Dry January' or hitting the gym with a new fitness regime, January is the month when many of us decide to turn over a new leaf.
18 December 2019
Belfast Pubs To Visit This Festive Season
Whether you're planning a quiet catch up with family and friends, hoping to dance the night away or heading out on a 12 pubs of Christmas night out, it's always good to have a selection of decent bars and pubs up your sleeve for the festive season.
13 November 2019
Your Guide To Northern Ireland's Christmas Markets
It's that time of year again, and the Christmas countdown will soon be on. As the streets begin to sparkle with festive lights, the annual tradition of wrapping up warm and browsing the local Christmas market becomes top of the to-do-list again.
31 October 2019
Get Organised This Christmas
Halloween is all but gone and whether we like it or not, the Christmas countdown will soon be upon us.
14 October 2019
How Best To Spend Your Halloween
With a definite chill in the air and a layer of crunchy leaves lining the streets, the signs of Autumn couldn't be clearer. The new season can only mean one thing though, and Halloween is definitely upon us.
03 September 2019
Tour The Finest Local Cuisine With 'Taste the Island'
An extensive range of local foodie events will give people the opportunity to 'Taste the Island' over the next 12 weeks in a celebration of the region's finest food and drink, tasty experiences and scrumptious adventures.