28/11/2021
NORTHERN IRELAND ON THE INTERNET
19/12/2017
His & Her Christmas Gifts
It's that time of year again, when the air smells faintly of mulled wine and The Pogues get an ungodly amount of coverage across our radio waves.
And of course, with Christmas comes those two words that are enough to strike terror into any man; gift shopping. So, for the guys out there who want to do the least amount of shopping possible, yet get the most amount of credit for their gift, we've got you covered.
Gifts For Her...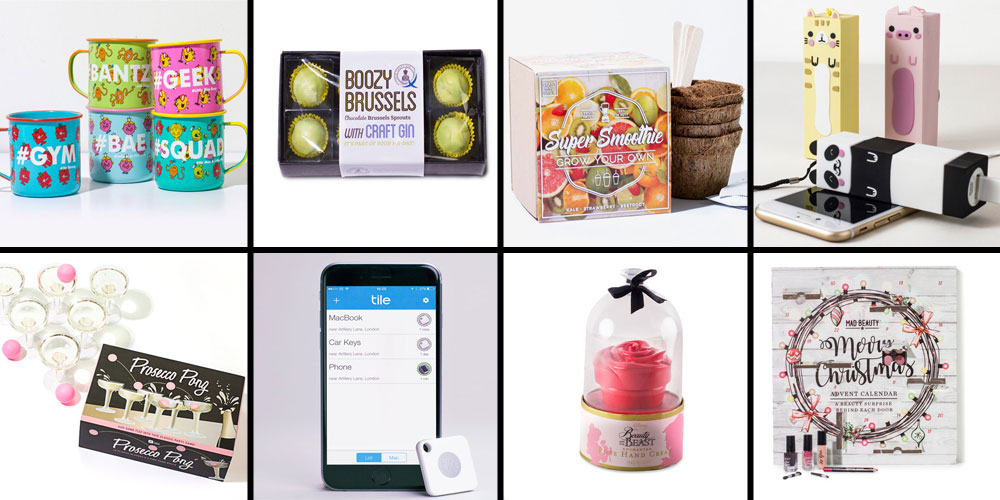 Mr Men & Little Miss Mugs
Matching Mr Men and Little Miss mugs; the staple of any loving relationship [citation needed]. With six hashtag designs to choose from; Bantz, Squad, Sassy, Geek, Bae and Gym, each of the kitsch enamel mugs have been given a makeover to bring Hargreaves' creations into the 21st century. So whether your girl is Little Miss Bossy or Little Miss Sunshine, let her know she's your Little Miss Princess this Christmas. Price: £9.99.
Boozy Chocolate Brussels Sprouts
It's not often I ask myself whether science has gone too far, but these Boozy Chocolate Brussels Sprouts certainly made me stop and re-evaluate everything I knew in the world. Containing eight chocolate sprouts, these handmade treats look just like the real thing but contain a mixture of white and milk chocolate, with an award-winning craft gin infused into its liquid centre. Yummy. And with a touch of green colouring to go along with its cabbage-like physique, these intoxicating chocolates are certainly a game-changer when it comes to the conventional Christmas dinner. Price: £11.99 *May contain wheat and nut traces
Grow Your Own Super Smoothie
Perfect for those girls in your life who are super into healthy eating and living. This Grow Your Own Super Smoothie kit will provide her with everything she needs to grow her own kale, strawberry and beetroot. Each box contains 2x bags of seeds, 4x biodegradable coconut husk pots, 4x compost discs, 4x wooden markers and a leaflet of instructions. Taking around two to three months to grow, this is a great way for her to get three of her five a day when the inevitable post-Christmas diet kicks off. Price: £12.99
Power Pets
Imagine a world where cats, pigs and pandas can charge a mobile phone (what a strange sentence to type). These Power Pets contain a 2600mAh battery that'll comfortably charge a mobile phone, or any electronic device that uses a USB cable as its charger. In addition they're conveniently pocked-sized and lightweight, making them the perfect cute critter to charge on the go. Re-charging time; 4 – 5 hours Price: £14.99
Prosecco Pong
Prosecco Pong; a modern take on the historic drinking game. Featuring 12 wide Prosecco glasses and three pink ping pong balls, this fun game does away with the old faithful red cups and brings house parties into a classier light. Split your team into two teams of six and let the magic happen. Perfect for taking hen-dos/BBQs/friday nights up a few notches. Price: £14.99 *Prosecco not included. Please drink responsibly.
Tile Mate
This is a great gift for those who are constantly misplacing their phone/keys/purse/luggage etc. Tile Mate is a clever little simple-to-attach device that allows you to ring your lost items if your Tile is inside a 100ft bluetooth range, playing a loud tune until you locate whatever it is you're looking for. In addition, if you've lost your phone double press the button Tile to reverse the process and ring your misplaced device, even if it's on silent. The app even remembers the last time and place it saw your Tile, so you'll always know where to look. And you can share Tiles with your room mate/friend to increase of the chances of finding misplaced items. Better yet, if your Tile is out of range you can enlist the help of over five million other users; the largest lost-and-found network in the world. So, it seems the days of desperately ripping up the sofa cushions to try and find the TV remote are long over. Price: Single Pack - £22.99, Four Pack - £64.99
Beauty & The Beast Rose Hand Cream
Why not turn your girl into a real Disney Princess this Christmas with the Beauty & The Beast Rose Hand Cream. Made using using Shea butter and infused with a rose scent, this hand cream comes in a rose-shaped pot presented within the famous dome, just like the movie. Perfect for hands that are feeling a bit more Beast than Beauty. Price: £7.99
Mad Beauty Advent Calendar
In today's health-obsessed world, we know that eating chocolate for 24 days straight isn't exactly the healthiest option (damn you, carbs!). So, how about an Advent Calender that expands your beauty and makeup collection? With 24 windows each containing mini lip gloss, nail polishes, eye shadow, lip liners, blusher and more, the Mad Beauty Advent Calendar will make sure your gift recipient is all set up for the big day. Besides, why get one gift when you can spoil your girl with 24? Price: £22.99
Gifts For Him...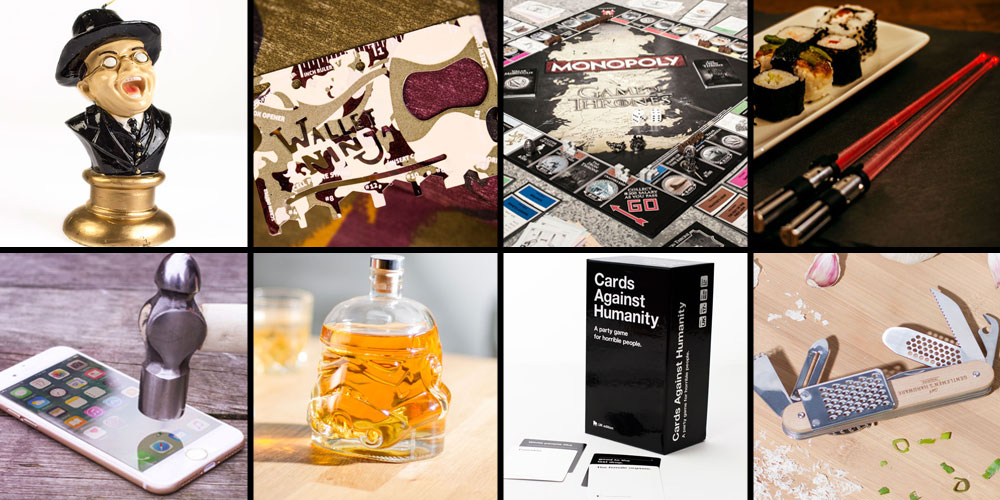 Finding the perfect gift for the man in your life can be hard work. You could always play it safe and go with that old faithful shower gel, soap and shampoo combo, but that hardly screams 'I love you' now does it?
So if you're stressing out about finding the perfect gift, here's a list of some pretty cool gifts guys could get their hands on this Christmas.
Melting Toht Candle
If there was ever a gift to celebrate one of the greatest movie death scenes ever filmed, this is it. This wax replica of Gestapo agent Toht thankfully melts a lot slower than his face does in Raiders of the Lost Ark. All you have to do is light the wick and watch as Major Arnold Ernst Toht succumbs to his grisly fate. Features of the replica includes a leather jacket, fedora, spectacles and gaping mouth. The candle also comes in a cardboard presentation box shaped like a wooden crate. Price: £24.99
The Wallet Ninja 18-in-1 Multi-Tool
This handy little device has every tool a man needs, whether it be a screwdriver or a bottle opener. Coming in either Black or Camo, the Wallet Ninja is the size of a credit card and made with 4x heat treated steel. Its uses can include a can opener/fruit peeler, bottle opener, hex wrenches, ruler, letter opener, box opener, phone stand and screw driver. So, if you're a fan of both gadgets and DIY, this is the ideal gift for you. Price: £8.99
Game of Thrones Monopoly
Winter is coming. Literally. Why not spend those chilly evenings inside with your man and battle your way to the Iron Throne? This collectors edition is a fun take on the classic board-game and all the rules stay the same. However, some fun tweaks have been made, such as swopping traditional Houses and Hotels for custom villages and keeps. Even the Community Chest and Chance cards have been renamed to 'The Iron Throne' and 'Valar Morghulis'. In addition, famous locations from the series make an appearance including Castle Black and Winterfell, while the familiar player tokens have all been traded for six GoT themed pieces; Dragon Egg, Three-Eyed Raven, White Walker, Direwolf, Crown and The Iron Throne. Chaos is a ladder, and when you play the game of thrones, you win or you die. Price: £34.99
Star Wars Light-Up Chop Sabers
It was inevitable, really. Take a pair of chop-sticks, add a bit of Star Wars, and you have your very own lightsaber eating utensil. Available in either red (Vader) or blue (Luke), watch as your gift recipient becomes either a Jedi Knight or Sith Lord and duels over the last piece Asian food. Each chopstick comes with a light-up push-button and are easy to dismantle, so they can be washed safely by hand and stored for future use. Thankfully, the Chop Sabers won't actually cut through material like a real lightsaber, so your intended recipient won't have to worry about losing a finger or three. Price: £19.99
Rhino Shield for iPhone
Is your man clumsy? Does he drop his phone, watch it land face down then gingerly pick it up to be greeted by a wonderful mishmash of broken glass that is now his phone screen? Thankfully, this heartbreaking scene is now a thing of the past thanks to Rhino Shield. Made from custom-formulated polymer and at just 0.029cm thick, this protective screen is subtle and easy to apply. Just wipe down the screen with the provided cloth and the self-adhesive silicone will grip to the phone. In addition, the transparent screen absorbs five times the impact of the infamous Gorilla glass, allowing accidental drops on pavements or hard surfaces to go unpunished. So, why not give your man peace of mind and start protecting his iPhone the proper way. Price: £17.99 for iPhone 6 and iPhone 7, £19.99 for either iPhone 6 plus Or iPhone 7 Plus.
The Original Stormtrooper Decanter
I don't think I've ever met any man who isn't at least a fan of either Star Wars or alcohol. If he likes both, hurray! You've hit the jackpot with the awesome looking Original Stormtrooper Decanter. Capable of holding 750ml of booze, this iconic helmet is based off the original 1977 design and made from premium 'Super Flint Glass'. Overall, this is the perfect centrepiece for any sci-fi fan's dinner table. Price: £24.99
Cards Against Humanity
If you've never played Cards Against Humanity, this game is where innocence goes to die. Here are the rules; each round, one player asked a question from a black card and everyone else contributes an answer with their funniest white card. The owner of the black card then chooses which white card answer is the funniest. Simple right? Well, with 500 white cards and 100 black cards, get ready for some of the most random, horrible, outrageous and downright shocking answers known to humanity. You can also play it again and again without the answers getting repetitive. Overall I think the games tagline sums it up best: "A party game for horrible people". Price: £24.99
Kitchen Multi-Tool
Ladies rejoice, you'll never have to force your man to help out in the Kitchen ever again with the Kitchen Multi-Tool. Like a swiss-army knife for cooks, the makers have packed 12 stainless steel utensils into this nifty little device;
Cheese grater
Stirring spoon
Carving fork
Channel knife
Serrated knife
Paring knife
Zester
Peeler
Garlic crusher
Cork screw
Can opener
Bottle opener
The handle also splits in half so you can use a tool in each hand. Price: £29.99
All prices and images provided by www.firebox.com Feature Photo by Darren Coleshill on Unsplash
`
---
Latest Northern Ireland Features
06 July 2021
Fun And Thrills Of NI's Outdoor Adventure Centres
School is out for the summer and while overseas adventures may be limited, there's no better time to make the most of the best Northern Ireland has to offer. Whether you fancy a weekend away or just a day trip with the family, the region's outdoor activity centres have a bit of everything for all ages.
12 March 2020
Explore NI's Stunning Walking Trails
As another year of spring approaches, the brighter days are a new chance to get in shape, enjoy the fresh air and explore your local area.
05 March 2020
Marathon Season Fixtures
For the runners among us, brighter days and hints of spring can mean only one thing; it's time to get the trainers as on as marathon season is just around the corner.
30 January 2020
Explore NI's Stunning Walking Trails
It's a new decade and a new chance to get in shape, enjoy the fresh air and explore your local area. While this may sound mediocre compared to the holidays we're all currently dreaming of booking, Northern Ireland is dotted with stunning coastlines and mountain plains that quite frankly don't get the credit they deserve.
06 January 2020
January Money Saving Tips
Whether you're starting back to work, participating in 'Dry January' or hitting the gym with a new fitness regime, January is the month when many of us decide to turn over a new leaf.
18 December 2019
Belfast Pubs To Visit This Festive Season
Whether you're planning a quiet catch up with family and friends, hoping to dance the night away or heading out on a 12 pubs of Christmas night out, it's always good to have a selection of decent bars and pubs up your sleeve for the festive season.
13 November 2019
Your Guide To Northern Ireland's Christmas Markets
It's that time of year again, and the Christmas countdown will soon be on. As the streets begin to sparkle with festive lights, the annual tradition of wrapping up warm and browsing the local Christmas market becomes top of the to-do-list again.
31 October 2019
Get Organised This Christmas
Halloween is all but gone and whether we like it or not, the Christmas countdown will soon be upon us.
14 October 2019
How Best To Spend Your Halloween
With a definite chill in the air and a layer of crunchy leaves lining the streets, the signs of Autumn couldn't be clearer. The new season can only mean one thing though, and Halloween is definitely upon us.
03 September 2019
Tour The Finest Local Cuisine With 'Taste the Island'
An extensive range of local foodie events will give people the opportunity to 'Taste the Island' over the next 12 weeks in a celebration of the region's finest food and drink, tasty experiences and scrumptious adventures.