22/07/2018
NORTHERN IRELAND ON THE INTERNET
09/01/2018
January Freebies
January is a long month. Long enough to dwell on just how much money you got through over the holidays, and just how long it is until next payday. But you don't have to sit around the house willing away the days because they are many and varied things you can do in and around the city for free.
Well, I say varied, truth be told they all kind of involve walking, but don't you also need to work off at least some of those mince pies and Quality Street...
Ulster Museum, Botanic Gardens and the Palm House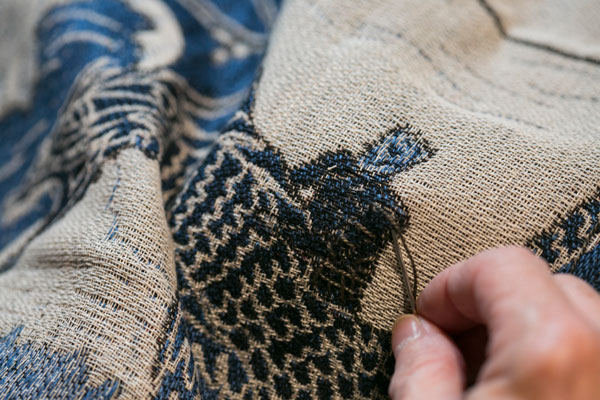 To locals the Ulster Museum could be easily forgotten; maybe you haven't been since you were a child and remember it as being a bit rundown. Well, if so, you should definitely revisit.
Following extensive renovations, the museum is better than ever: "Encounter the famous Egyptian mummy, Takabuti, come face to face with dinosaurs and unravel the making of Ulster at the Modern History Gallery in one of Northern Ireland's most-visited attractions."
Entry is free - although donations are welcomed - to almost their entire museum and its exhibitions. Currently you'll find the monstrous Game of Thrones Tapestry - "From Winterfell to the Iron Islands, this epic tapestry brings to life the infamous events, locations and story of the most popular television series of all time." Along with an absolute host of treasures.
"The Ulster Museum offers something for art lovers, history buffs, excited children, and the curious. Our collections take you across Ireland and to all corners of the globe. Come face to face with dinosaurs, get up close with an Egyptian mummy, dive into our discovery zones, or just enjoy a bit of peace and quiet at our café and shop. Plenty to enjoy and loads to love at the Ulster Museum."
Open Tuesday to Sunday, 10:00 to 17:00.
nmni.com/um
While you're in the area, don't forget Botanic Gardens. Might not be the most attractive proposition on a bad weather day, but if it happens to not be raining, it's worth doing a lap.
Unfortunately, the main attraction here – which would've had it's own place on this list – the Tropical Ravine has yet to reopen. It has undergone a major refurbishment and was due to open in "winter 2017", but we guess they must still be waiting for it to get back up to temperature.
Belfast City Hall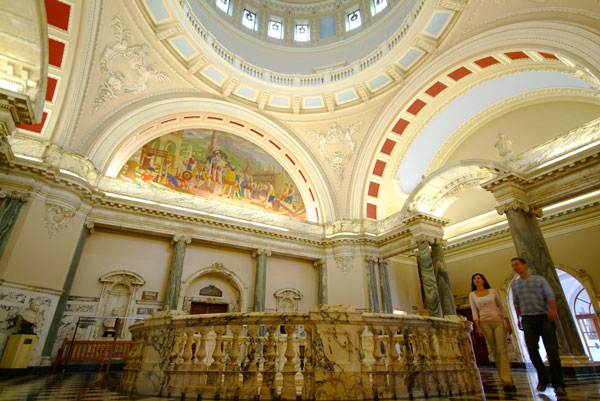 How much do you know about City Hall? It can be easy to overlook the older buildings in our city, even when it's quite literally the centre of the city.
Do you know just how much marble there is in there? You can just dander in and have a pretty good look around. You'll see not just marble, but a wealth of art and mysteriously closed doors. But if want to know what might be going on behind those door, then why not partake of free tour?
OK, you'll probably not find out what's going on behind those doors but you will hear all about the history of the building and it's finest features.
Running three times a day, every day, the tour is led by an experienced tour guide and last around an hour.
Tours operate on a first come, first served basis, with registration closing 15 minutes before each tour starts. All tours are free, but donations are welcomed.
Monday to Friday at 11:00, 14:00 and 15:00. Saturday and Sunday at 12:00, 14:00 and 15:00.
belfastcity.gov.uk
Belfast Hills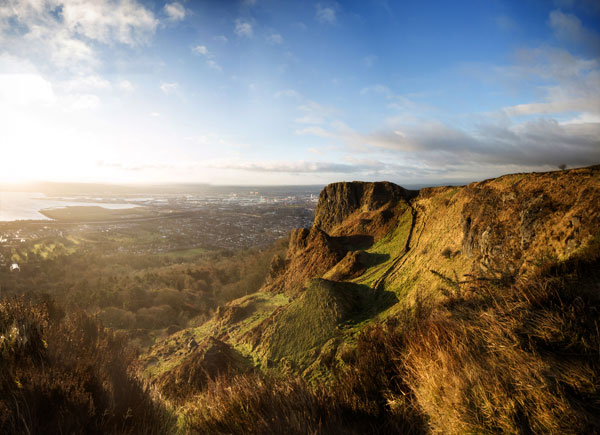 OK, you've spent enough time indoors, it's time head out for a "unique backdrop, some fresh air, wildlife, history, events and fantastic views of the city".
Belfast sits in a valley and those hills aren't just nice to look up at, they are also pretty special places to explore, and the city offers many options, including: Carnmoney Hill; Cave Hill Country Park; Divis and the Black Mountain, Slievencloy Nature Reserve; Colin Glen Forest Park; and Ligoniel Dams and Park.
Managed by the Belfast Hills Partnership, they of course are quite verbose about what's on offer: "A short walk (from) the city streets can take you into the river valley paths at Colin Glen or up through the old Carnmoney Hill woodland. The upland heath and wildflowers of Divis or Slievenacloy are a must for fresh air.
"Travelling from Black Mountain on to Divis walkers are rewarded with spectacular views of Belfast Lough, the Castlereagh Hills, the Ards Peninsula, the Isle of Man, Scotland, Slieve Gullion, the Mournes and Carlingford Mountains on the one side, and on the other the Sperrins, Antrim Plateau and Lough Neagh. The Samson and Goliath cranes, Titanic centre, Stormont Parliament Buildings and the peace lines are all visible."
As for the history, it is understood that Divis was used to train Allied troops during WW2 for the D Day Landings, and the crashing of an American bomber in Cave Hill inspired the film, Closing The Ring.
Cave Hill's McArt's Fort is also believed to be the inspiration for Jonathan Swift's "Gulliver's Travels" as the hills are the embodiment of a sleeping giant.

More information, maps and virtual tour are available at
belfasthills.org
Parliament Buildings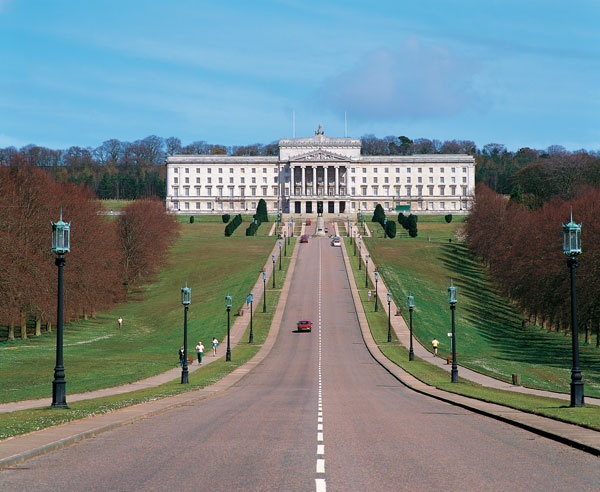 There's not been much going on up at Stormont recently, so you might as well take advantage and go have an undisturbed look around.
Built in 1921 at a cost of nearly £1.7 million, it was designed to house the newly formed Government of Northern Ireland and was officially opened on 16th November 1932 by the then Prince of Wales, on behalf of King George V.
The building is open to visitors Monday to Friday, giving access to the Great Hall and the gift and coffee shop. There are also free guided tours Monday to Friday at 11:00 and 14:00. If you really want, you can even contact your local MLA (you'll probably find them in their office doing the crossword or something) to arrange a private tour of Parliament Buildings.
parliamentbuildings.org
---
Latest Northern Ireland Features
03 July 2018
NI's Top Road Trip Destinations
It is time to capitalise on this unusual streak of incredible weather we're enjoying, and the best way to do that..? Two words; Road trip. If you happen to think that you need to travel far or wide to find some epic drives, you'd be quite wrong.
12 June 2018
Convertible Cars On A Budget
The convertible car; an absolute must-have for sunshine driving. With sunny days a strange and rare occurrence in this country, it's fair to say when the weather is this good, owning a convertible car should go straight to the top of anyone's 'must buy' list.
08 May 2018
Must See Tourist Spots
When it comes to Northern Ireland tourist spots there are a lot of suggestions that can be made, from the historical landmark to the locations used for filming the likes of Game of Thrones - Below you'll find our recommended locations in NI which are a must see.
11 April 2018
Walking NI
With the weather getting ever better – with obvious exceptions made for when it decides to snow – we think it's time to reach into the back of the cupboard and bring forth the light anoraks and sturdy walking boots. Northern Ireland is spoilt for beautiful walking destinations.
26 March 2018
Easter Eggstravaganza
Is it finally here..? Can we really trust the sun..? It is so pleasing to finally feel it's warmth again, but how long will it last... Nonetheless, Easter is just around the corner and we encourage you to be bold and plan some fun, eggcellent (sorry!) adventures.
15 March 2018
St Patricks Day 2018
Top o' the morning to ye! Once again, the day is upon us where the streets will be awash with the colour green as we celebrate the life of everyone's favourite missionary, Saint Patrick. To celebrate the occasion, we've drawn up a list of some fun events happening around the Emerald Isle on 17 March...
29 January 2018
Moors, Shores and Sightseeing Tours
Whether you're an eager tourist, or a curious local, a well-planned and organised tour can be an excellent way to kill a few hours. It also seems in Northern Ireland, you'll be spoilt for choice.
09 January 2018
January Freebies
January is a long month. Long enough to dwell on just how much money you got through over the holidays, and just how long it is until next payday. But you don't have to sit around the house willing away the days because they are many and varied things you can do in and around the city for free.
19 December 2017
His & Her Christmas Gifts
It's that time of year again, when the air smells faintly of mulled wine and The Pogues get an ungodly amount of coverage across our radio waves. And of course, with Christmas comes those two words that are enough to strike terror into any man; gift shopping.
Northern Ireland Weather

Today:

A mostly cloudy day with only some sunny intervals developing mainly in the east. A few showers breaking out later which could be heavy. A warm day. Maximum temperature 23 °C.

Tonight:

Bright and warm evening with a few showers then clouding over tonight with rain reaching the north and west later. Very mild and muggy, especially in east. Minimum temperature 16 °C.