12/12/2018
NORTHERN IRELAND ON THE INTERNET
29/01/2018
Moors, Shores and Sightseeing Tours
Whether you're an eager tourist, or a curious local, a well-planned and organised tour can be an excellent way to kill a few hours. It also seems in Northern Ireland, you'll be spoilt for choice. From food-tasting to sightseeing, or simply going your own way, all possible avenues are covered thanks to our wee country's abundance of history, local produce and culture.
So, if you're finding yourself a bit overwhelmed about where to start, we've got you covered. Check out our list below for some fun tours to try out in Northern Ireland.
Belfast City Sightseeing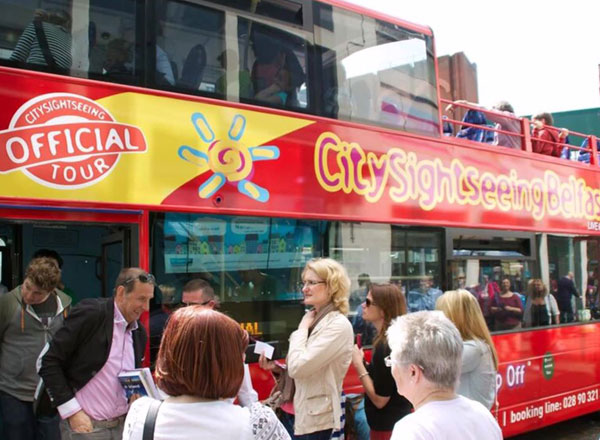 As Northern Ireland's capital, we thought Belfast would be a pretty good place to start if you want to get out and explore. If you want to see every area and district of this unique city, the Belfast City Sightseeing bus tour is the way to go about it.
If you're a seasoned traveller, you'll be no stranger to the open-top hop-on/hop-off method for city sightseeing tours. However, as the only open top tour in Belfast which is four star rated by the Northern Ireland Tourist Board, we're pretty sure visitors are in for an entertaining ride. Tours depart from Castle Place in Belfast city centre but visitors can join from any stop along the route.
With 23 stops to choose from you're spoilt for choice. However, our top three picks would be:
Stop 4 – Titanic Belfast visitor attraction; Having secured the prestigious accolade of 'World's Leading Tourist Attraction' last year, it's safe to say this will be pretty high on your list. Key highlights include the fascinating Titanic Experience, SS Nomadic (the world's last remaining White Star vessel) and for the food buffs among us, the Bistro 401 Restaurant.
Stop 22 – Crumlin Road; featuring the Crumlin Road Gaol Visitor Attraction and Conference Centre and the Old Courthouse.
Stop 23 – Donegall Street; visitors can enjoy the Clifton St. Poor House, Cathedral Quarter, St. Anne's Cathedral, St. Patricks Church and Northern Ireland War Memorial.
The full tour lasts approximately 90 minutes, and you're advised to bring suitable clothing. Belfast can get pretty chilly even during our supposed 'Summer'.
belfastcitysightseeing.com
NI Black Taxi Tour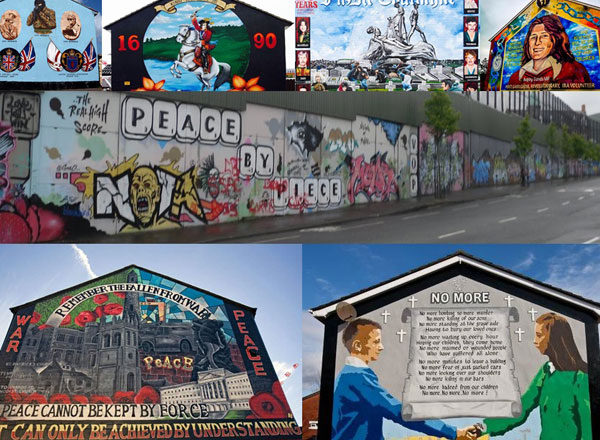 Who knows a city better than it's taxi drivers? That's the question posed by the NI Black Taxi Tour, and we have to say their point is well made with that rhetorical question.
Priding themselves on being "Impartial – Educating – Entertaining", NI Black Taxi Tours recognise that there are two sides to every story and they present in an "unbiased manner". Get to know the real history of Belfast with one of their personable guides.
The Belfast Taxi Tours are all about you and your expectations. You can devise a specific itinerary based on your interests. Drivers can pick you up at any specified location and drop you off after the tour has finished at any desired location. If you are not sure where to go, ask the drivers – they are full of suggestions.
Going in for the hard sell, they state: "The Northern Ireland Black Taxi tours are all about exploring the magic of this wonderful country. You could enjoy taking in the legendary Bushmills Distillery – the oldest licenced distillery in the world, the magnificent Giants Causeway or the Carrick-A-Rede Rope Bridge. Again, we can suggest a Northern Ireland tour around your requirements and interests."
Starting at £30 for three people, tours can be as tailored or as casual as you want, so if they big red bus isn't for you, see another side of Belfast -
NI Black Taxi Tours
.
Giant's Causeway Walking Tour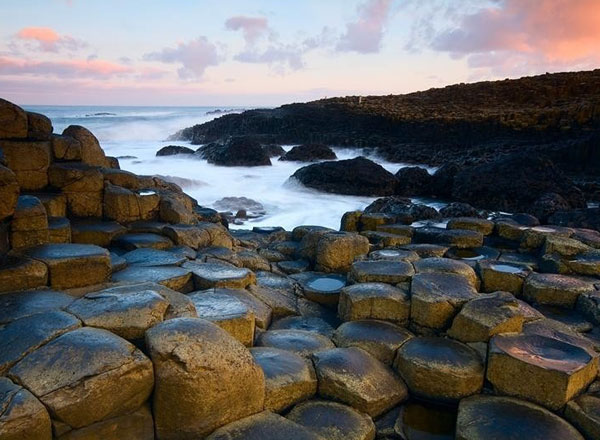 You've heard the legend, now you can visit the only World Heritage Site in Northern Ireland; the Giant's Causeway.
Renowned for its polygonal columns of layered basalt, caused by a volcanic eruption 60 million years ago, this iconic location is perfect for tourists who want to experience nature in it's natural form.
The short two-mile walk will take you to the 'The Stookans' or Windy Gap, as locals refer to it, as walkers will be exposed to the wild elements of the Atlantic Ocean.
Made up of three promontories - the Little Causeway, the Middle Causeway (better known as the 'Honeycomb') and the Grand Causeway, visitors will be able to experience all the names and features associated with legendary giant Fionn mac Cumhaill (Finn MacCool), such as the Wishing Chair, Giant's Boot, The Organ, Wishing Well & Giant's Gate.
For information on where to get started, go to
walkni.com
Taste & Tour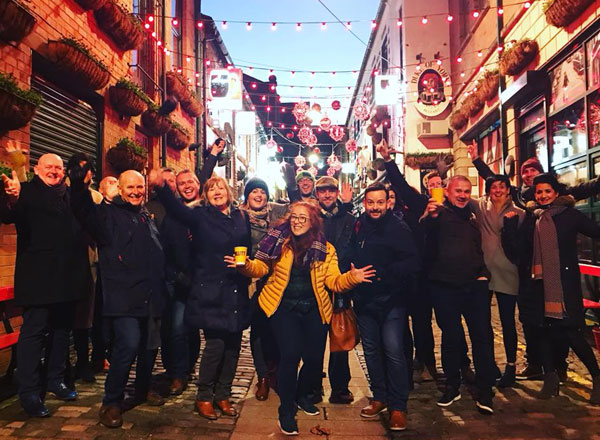 For those who fancy their food, listen up. This award-winning Food Tour will showcase some of the top food and drink Belfast has to offer.
Lasting roughly four hours, visitors will have plenty of time to try out over 25 of the best local food and drink in various locations, including St George's Market, traditional bars and a top restaurant in the Cathedral Quarter.
And for those after a more traditional experience, the Belfast Bites tour has it all. Participants can bite into an award winning Ulster Fry, try a Belfast Brew, taste local seafood, sample local cheeses and much more.
But it's not just food buffs who are in for a treat. The 'Belfast Gin Jaunt', Northern Ireland's first Gin Tour, is the perfect way to unveil the wonderful world of gin to newcomers. Visitors can try out seven different gins, including three locals, across five pubs and bars.
However, if gin isn't your poison of choice, the Brewery Tour lets guests sample 11 beers from three local brewers over a fun-filled evening, complete with nibbles along the way.
tasteandtour.co.uk
Image found on their Facebook, taken during a tour on 7th January.
Causeway Coastal Route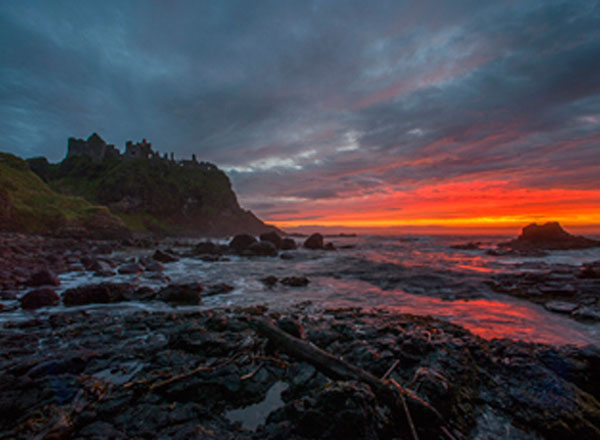 The Causeway Coastal Route is a designated way-marked drive around the coast of Northern, taking you between the cities of Belfast and L'Derry.
The route is approximately 120 miles long and merges with the 'Wild Atlantic Way at L'Derry and the Mourne Scenic Route at Belfast – and inlcudes nine shorter scenic loops for you to explore along it's length.
With the landscape changing from sea views to mountain tops, sleepy hamlets and coastal harbours to busy cities, the Route follows A Class roads (two lanes), with some minor single roads to be found on the scenic loops.
While it is possible to complete to Route in one day, to enjoy the experience fully and allow yourself time to visit particular attractions along the way, and those all important scenic loops, allowing yourself 3 to 5 days is recommended.
You can of course, just hit the road and explore the route yourself, but if you want a guided tour, this can be arranged through the
Causeway Coastal Route Guide
.
More information can be found from the independently fund
Causeway Coastal Route
website.
---
Latest Northern Ireland Features
28 November 2018
Your Guide To Northern Ireland's Christmas Markets
The Christmas countdown is on, so why not kick-start the celebrations with a wander through one of Northern Ireland's Christmas markets to really get you into the festive spirit. From browsing unique gifts, to sampling mulled wine or meeting Santa, Christmas markets are an excellent way for people of all ages to start the season.
07 November 2018
The Christmas Spirit
The Halloween make-up had barely been washed off when the Christmas train came rolling in. The red cups are out already and the lights ain't even been switched on, but that will all be rectified over the next few weeks, as across NI switches are flipped and lights will begin to twinkle.
19 October 2018
Upcoming Halloween Events
Toffee apples, monkey nuts and fireworks. Just three of the many great things about the Halloween season. For more, check out these events for just a small snippet of what's going on around NI, this October.
24 September 2018
Guide To Glide
Glider is the new, effortless and smooth way to travel. It's easy to use, frequent, accessible and excellent value, running approximately every 7 to 8 minutes throughout most of the day.
03 July 2018
NI's Top Road Trip Destinations
It is time to capitalise on this unusual streak of incredible weather we're enjoying, and the best way to do that..? Two words; Road trip. If you happen to think that you need to travel far or wide to find some epic drives, you'd be quite wrong.
12 June 2018
Convertible Cars On A Budget
The convertible car; an absolute must-have for sunshine driving. With sunny days a strange and rare occurrence in this country, it's fair to say when the weather is this good, owning a convertible car should go straight to the top of anyone's 'must buy' list.
08 May 2018
Must See Tourist Spots
When it comes to Northern Ireland tourist spots there are a lot of suggestions that can be made, from the historical landmark to the locations used for filming the likes of Game of Thrones - Below you'll find our recommended locations in NI which are a must see.
11 April 2018
Walking NI
With the weather getting ever better – with obvious exceptions made for when it decides to snow – we think it's time to reach into the back of the cupboard and bring forth the light anoraks and sturdy walking boots. Northern Ireland is spoilt for beautiful walking destinations.
26 March 2018
Easter Eggstravaganza
Is it finally here..? Can we really trust the sun..? It is so pleasing to finally feel it's warmth again, but how long will it last... Nonetheless, Easter is just around the corner and we encourage you to be bold and plan some fun, eggcellent (sorry!) adventures.
15 March 2018
St Patricks Day 2018
Top o' the morning to ye! Once again, the day is upon us where the streets will be awash with the colour green as we celebrate the life of everyone's favourite missionary, Saint Patrick. To celebrate the occasion, we've drawn up a list of some fun events happening around the Emerald Isle on 17 March...