18/08/2018
NORTHERN IRELAND ON THE INTERNET
15/03/2018
St Patricks Day 2018
Top o' the morning to ye! Once again, the day is upon us where the streets will be awash with the colour green as we celebrate the life of everyone's favourite missionary, Saint Patrick.
To celebrate the occasion, we've drawn up a list of some fun events happening around the Emerald Isle on 17 March...
St Patrick's Day Parade and Concert in Belfast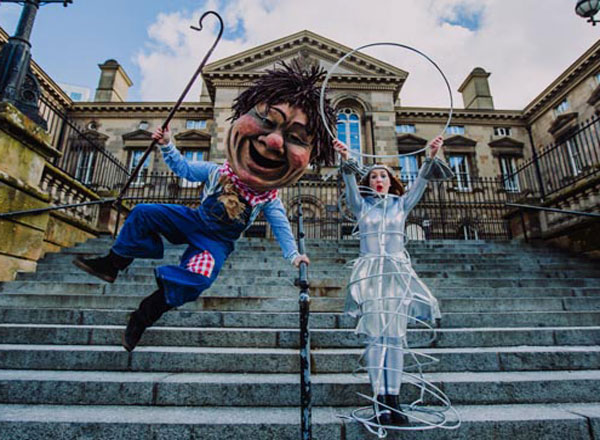 Kicking things off, join thousands of parade-goers in Belfast this St Patrick's Day for the annual carnival parade and free concert.
This year, the parade will follow a new route leaving from Royal Avenue, travelling through Castle Junction and along Donegall Place before snaking its way around Belfast City Hall, and then returning along the same route again, finishing at Royal Avenue.
Community groups from across the cultural spectrum will be taking part alongside professional and amateur performers, costumed characters, musicians and dancers. There'll also be Global Belfast and St Patrick's Day themed arts and crafts, a range of walkabout, street theatre acts and face painters to keep even the youngest revellers entertained. Hot food, soft drinks, sweet treats and more will be on sale from a range of traders.
Following the parade, visitors can make their way to Custom House Square to enjoy the annual concert from 1.30pm, headlined by former JLS member Aston Merrygold and featuring local musicians and dancers, along with special guest appearances from award winning modern Irish dancing group Slide Step and Belfast-based Irish Festival Dancing School, Tír Na n-Óg. Other artists will include Tanaka, winner of the PanArts Young Singer Songwriter Competition 2016, and JORD.
Lord Mayor, Councillor Nuala McAllister, said: "I really can't wait for this year's St Patrick's Day celebrations in Belfast, because I know that thousands of people of all ages, backgrounds and nationalities will be joining in the fun.
"The theme for my year in office is 'Global Belfast' and the wonderful Beat Carnival have worked so hard with their many community partners to create an incredible parade which illustrates that theme, as well as the diversity of the city we love, and our people. Make sure you don't miss it!"
Time: 11.30am – 4pm
Venue: City Centre and Custom House Square.
But if you're looking to kick the celebrations off a tad earlier......
St George's Market on St Patrick's weekend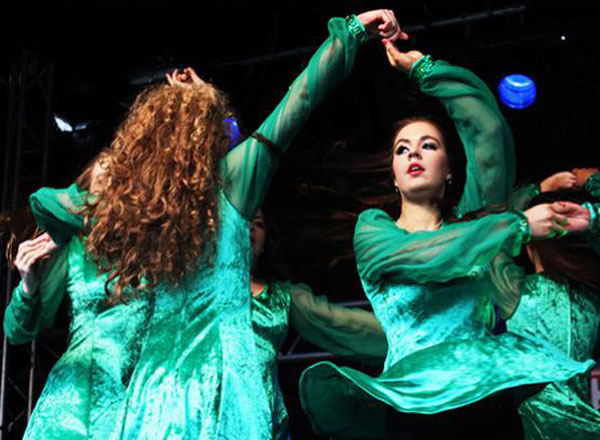 If you're eager to get stuck into the festivities, a sea of green and celebrations await you at St George's Market from Friday, 16 March.
This jam-packed weekend has everything any good St Patrick's Day enthusiast needs, including;
local live traditional music
toe-tapping Irish dancing
family fun shamrock design workshops
delicious Irish stew and the traditional Irish fry from selected traders
special trader offers
Irish dancers will also be performing from 10am – 12 noon on Saturday, 17 March.



Home of St Patrick Festival – Armagh and Down



Having established Armagh as Ireland's spiritual capital when he embarked on his Christian mission all those years ago, it's fair to say Saint Patrick is a pretty popular figure around these parts.

This 11-day event provides an unrivalled mix of regional and international music, theatre, spoken word, art and comedy, showcasing the stunning locations where the Spiritual Father of Ireland himself walked and worked.

Highlights will include;

Visitors can enjoy the work of world renowned artists and performers including Kim Haughton, whose 'Portrait of a Century' exhibition (12 March-5 May) features throughout the festival and Portuguese Fado singer 'Carminho' (15 March).
Explore the mysteries of the night sky during Saint Patrick's time at 'Starry, Starry Night (9 March).
Walk in the footsteps of Saint Patrick and sample culinary delicacies and beverages with links to France and Nigeria (18 March) or...
Follow in in St. Patricks' footstep and forage for food as he once did at the Navan Centre.

And for those attending the festival in Co Down, the opening event on 09 March includes the unveiling of a Mourne granita replica of St Patrick's Cross at Down Cathedral along with a traditional evening of song and dance. Highlights will include a re-enactment of his arrival in Ireland (11 March) at Inch Abbey on the shores of the Quoile River, Downpatrick, offering a host of family friendly activities including living history demonstrations, live music and free children's entertainment.

Lord Mayor of Armagh, Banbridge and Craigavon Borough Council, Alderman Gareth Wilson, said: "We are truly bringing St Patrick home with this world class festival programme of inspirational events and experiences. Any who visit this vibrant and welcoming region will enjoy our hospitality and the international standard of culture and entertainment available across the eleven days of celebration.

"We are delighted to be collaborating with Newry, Mourne and Down District Council for this landmark event, providing such a unique opportunity to share this incredible festival line-up in so many interesting locations and areas of outstanding natural beauty."



Saint Patrick's Way: The Pilgrims Walk



Fancy a change of pace from all the parades, concerts and Guinness? The Saint Patrick's Way; The Pilgrims Walk is an excellent way to celebrate the life of Saint Patrick outside of the usual festivities.

This 82-mile signed walking trail connects key Christian Heritage sites between Armagh and Downpatrick, taking you through some of Northern Ireland's most spectacular scenic landmarks before ending at Saint Patrick's final resting place in the grounds of Down Cathedral, Downpatrick.

The Pilgrim's Walk takes between six to 10 days to complete. Covering varied topography from rolling hills to canal towpaths, each day will offer different views and terrain, with plenty of cafes, restaurants and picnic sites along the way for refuelling.
A special Pilgrim's Passport is available from the Navan Centre & Fort and local Visitor Information Centres to enhance the walking experience as well as acting as a recorded souvenir of the journey.

For more information, check out the Pilgrim's Guide here.



St Patricks Day Festival Market, Ballycastle



Building on the success of last years event, the Naturally North Coast and Glens Market are once again taking part in this years St Patricks day Festival in Ballycastle.

Plans for this years celebrations include a parade followed by music, Irish dancing, a display from Kelly Neil Dance Co, market stalls and several different kids and family activities and entertainment.

Other fun activities include face painting, games, Irish dancing class, history presentation in the museum and the Ramoan parish hall, junior comogie and hurling blitz in the Quay road park, and many more.

(Image credit: www.naturallynorthcoastandglens.co.uk, www.saintpatrickscountry.com)
---
Latest Northern Ireland Features
03 July 2018
NI's Top Road Trip Destinations
It is time to capitalise on this unusual streak of incredible weather we're enjoying, and the best way to do that..? Two words; Road trip. If you happen to think that you need to travel far or wide to find some epic drives, you'd be quite wrong.
12 June 2018
Convertible Cars On A Budget
The convertible car; an absolute must-have for sunshine driving. With sunny days a strange and rare occurrence in this country, it's fair to say when the weather is this good, owning a convertible car should go straight to the top of anyone's 'must buy' list.
08 May 2018
Must See Tourist Spots
When it comes to Northern Ireland tourist spots there are a lot of suggestions that can be made, from the historical landmark to the locations used for filming the likes of Game of Thrones - Below you'll find our recommended locations in NI which are a must see.
11 April 2018
Walking NI
With the weather getting ever better – with obvious exceptions made for when it decides to snow – we think it's time to reach into the back of the cupboard and bring forth the light anoraks and sturdy walking boots. Northern Ireland is spoilt for beautiful walking destinations.
26 March 2018
Easter Eggstravaganza
Is it finally here..? Can we really trust the sun..? It is so pleasing to finally feel it's warmth again, but how long will it last... Nonetheless, Easter is just around the corner and we encourage you to be bold and plan some fun, eggcellent (sorry!) adventures.
15 March 2018
St Patricks Day 2018
Top o' the morning to ye! Once again, the day is upon us where the streets will be awash with the colour green as we celebrate the life of everyone's favourite missionary, Saint Patrick. To celebrate the occasion, we've drawn up a list of some fun events happening around the Emerald Isle on 17 March...
29 January 2018
Moors, Shores and Sightseeing Tours
Whether you're an eager tourist, or a curious local, a well-planned and organised tour can be an excellent way to kill a few hours. It also seems in Northern Ireland, you'll be spoilt for choice.
09 January 2018
January Freebies
January is a long month. Long enough to dwell on just how much money you got through over the holidays, and just how long it is until next payday. But you don't have to sit around the house willing away the days because they are many and varied things you can do in and around the city for free.
19 December 2017
His & Her Christmas Gifts
It's that time of year again, when the air smells faintly of mulled wine and The Pogues get an ungodly amount of coverage across our radio waves. And of course, with Christmas comes those two words that are enough to strike terror into any man; gift shopping.
Northern Ireland Weather

Today:

Cloudy this morning with some patchy light and drizzle. Mainly dry with some warm brightness in the south this afternoon, cloudy across the north with the odd shower. Maximum temperature 19 °C.

Tonight:

Widespread occasionally heavy rain will spread from the west by the end of the evening, rain becoming light and patchy later. Rather warm and humid. Minimum temperature 15 °C.