20/07/2018
NORTHERN IRELAND ON THE INTERNET
11/04/2018
Walking NI
With the weather getting ever better – with obvious exceptions made for when it decides to snow – we think it's time to reach into the back of the cupboard and bring forth the light anoraks and sturdy walking boots.
Northern Ireland is spoilt for beautiful walking destinations. Below we look at just six options; short, medium and long walks offering beautiful views, fresh air and plenty of Instagram opportunities.
Short – up to five miles
An Creagán Biodiversity Trail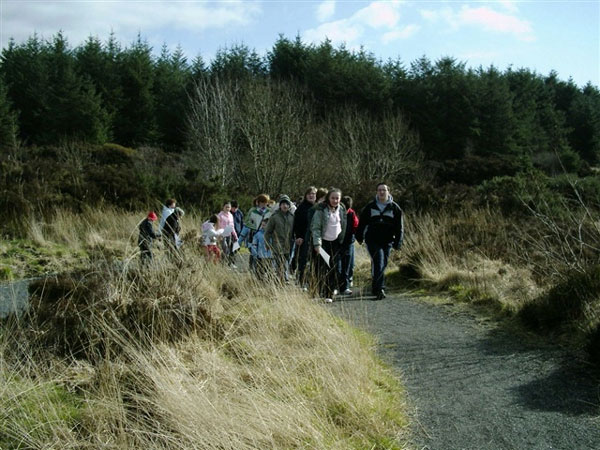 Let's start off very easy, with just a quarter mile circular walk described as a "safe and friendly place to de-stress in a uniquely tranquil and picturesque environment". Starting from An Creagán the walk begins with a Biodiversity Trail and a series of panels on the plants found on the bogs of Creggan. The walk continues through the forest where a variety of wildlife can be observed, the trail makes its way along the Glasagh Burn with beautiful views of Cashel mountain. The walk makes its way past an open raised bog and returns to An Creagán. The gravel and wooden boardwalk is fully accessible for buggies and wheelchairs. An Creagan also offers a longer Forest and Rover Trail walk at 3.5 miles. An Creagan, Creggan, Omagh, County Tyrone, Northern Ireland, BT79 9AF.
an-creagan.com
Bunkers Hill Walk & Play Trail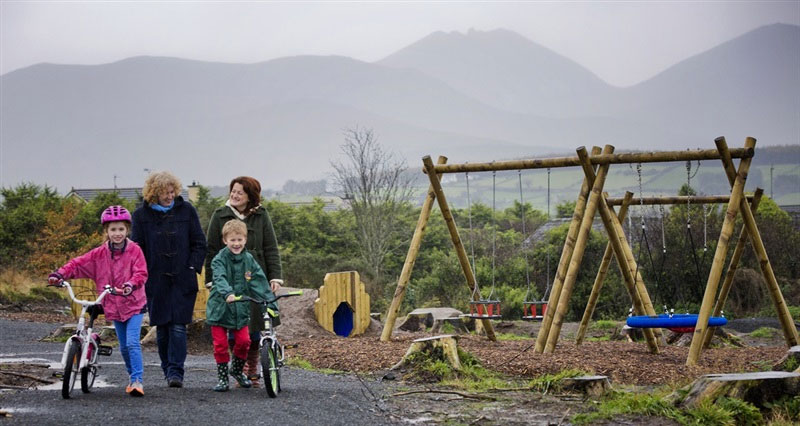 A 1.2 mile circular walk along gravel path in a recently felled forest at the edge of Castlewellan Town. The walk is ideal for families walking and cycling, offers three panoramic viewpoints and a Natural Play Trail for children. The Play Trail is the first of its kind in Castlewellan and is made almost entirely of natural materials. It includes basket swings, a lookout tower, amphitheatre and seats as well as a bespoke climbing wall. Full directions to finding the trail can be found via the link below.
visitmournemountains.co.uk
Medium – Five to 20 miles
Castle Ward Boundary Trail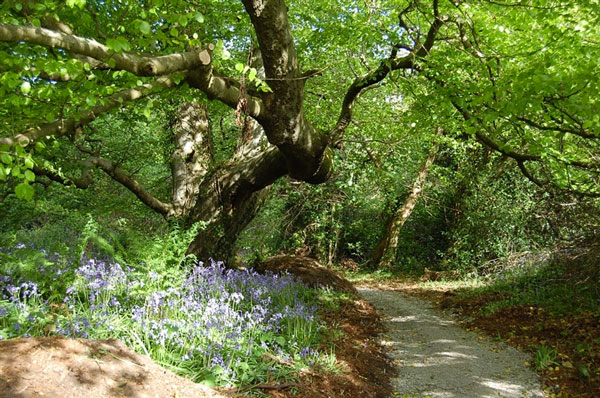 At 8.1 miles, this is the longest walking trail within Castle Ward, which incorporates sections of multi use trail with sections of narrow singletrack. Walkers should be aware the trail is popular with cyclists and horse riders. The circular trail is a built natural heritage path, which includes a farm yard, Audley's Castle, Castle Ward House and Strangeford Lough. The path is accessible on foot and by public transport and dogs are allowed.
nationaltrust.org.uk/castle-ward
Ballintoy to Bushmills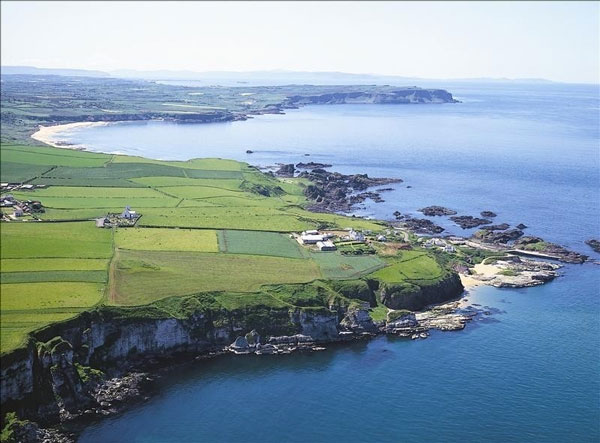 This 12.4 mile walks explores the "wonders that lie along the Causeway Coast, including Portballintrae, Portbradden, Dunseverick Harbour and the Giant's Causeway". The route includes walking on beaches, across rocks and along cliff top paths following the Causeway Coast Way, described as "one of the most spectacular cliff top paths in the UK". The path begins at Ballintoy Harbour and heads west where it quickly finds White Park Bay Beach. Walkers are warned that parts of the trail do contain uneven rocks and care is needed. Full information on the trail is available at
walkni.com
Long – over 20 miles
Sliabh Beagh Way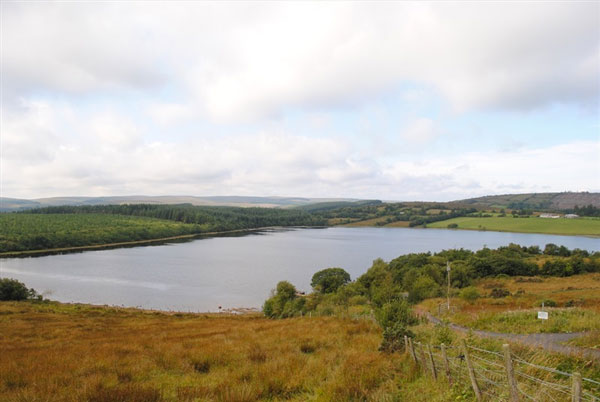 For the extra adventurous, this 30 mile, linear, walk is "steeped in local myth and legend". The Sliabh Beagh Way meanders through the valleys of Co Tyrone, the drumlins of Co Monaghan and the lakeland of Co Fermanagh. Described as a "two-day walking route" it includes a mixture of country lanes and forest tracks as it explores the varied countryside around south Fermanagh. A remote path across the expanse of moor around Sliabh Beagh is one of the highlights, while good signage and generally firm terrain make it suitable for all fit walkers.
Ring of Gullion Way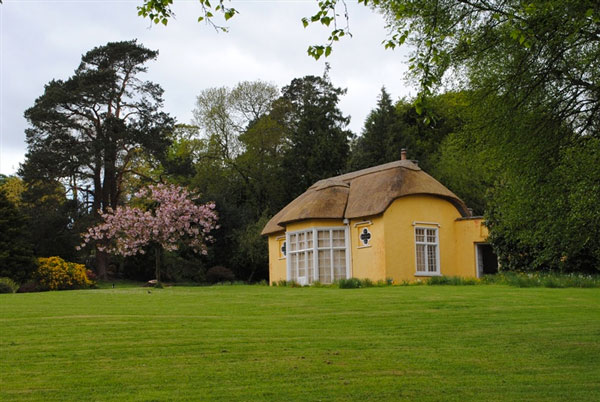 At 36 miles this is one of the longest circular trails on offer. The walk includes off-road trails, quiet country lanes and forest tracks and leads from Newry around the volcanic landscape of the Ring of Gullion AONB. Walkers are rewarded with ancient monuments and quiet villages, with the final section leading through the grounds of Derrymore House – owned and managed by the National Trust. This is just a small selection of many walks available right across NI. For more information and a full list of possible walks, including a number of upcoming walking festivals, go to
walkni.com
. WalkNI also offers advice and guidance on how to be safe and responsible while out. Access the guides
here
. All images courtesy of WalkNI.com.
---
Latest Northern Ireland Features
03 July 2018
NI's Top Road Trip Destinations
It is time to capitalise on this unusual streak of incredible weather we're enjoying, and the best way to do that..? Two words; Road trip. If you happen to think that you need to travel far or wide to find some epic drives, you'd be quite wrong.
12 June 2018
Convertible Cars On A Budget
The convertible car; an absolute must-have for sunshine driving. With sunny days a strange and rare occurrence in this country, it's fair to say when the weather is this good, owning a convertible car should go straight to the top of anyone's 'must buy' list.
08 May 2018
Must See Tourist Spots
When it comes to Northern Ireland tourist spots there are a lot of suggestions that can be made, from the historical landmark to the locations used for filming the likes of Game of Thrones - Below you'll find our recommended locations in NI which are a must see.
11 April 2018
Walking NI
With the weather getting ever better – with obvious exceptions made for when it decides to snow – we think it's time to reach into the back of the cupboard and bring forth the light anoraks and sturdy walking boots. Northern Ireland is spoilt for beautiful walking destinations.
26 March 2018
Easter Eggstravaganza
Is it finally here..? Can we really trust the sun..? It is so pleasing to finally feel it's warmth again, but how long will it last... Nonetheless, Easter is just around the corner and we encourage you to be bold and plan some fun, eggcellent (sorry!) adventures.
15 March 2018
St Patricks Day 2018
Top o' the morning to ye! Once again, the day is upon us where the streets will be awash with the colour green as we celebrate the life of everyone's favourite missionary, Saint Patrick. To celebrate the occasion, we've drawn up a list of some fun events happening around the Emerald Isle on 17 March...
29 January 2018
Moors, Shores and Sightseeing Tours
Whether you're an eager tourist, or a curious local, a well-planned and organised tour can be an excellent way to kill a few hours. It also seems in Northern Ireland, you'll be spoilt for choice.
09 January 2018
January Freebies
January is a long month. Long enough to dwell on just how much money you got through over the holidays, and just how long it is until next payday. But you don't have to sit around the house willing away the days because they are many and varied things you can do in and around the city for free.
19 December 2017
His & Her Christmas Gifts
It's that time of year again, when the air smells faintly of mulled wine and The Pogues get an ungodly amount of coverage across our radio waves. And of course, with Christmas comes those two words that are enough to strike terror into any man; gift shopping.