24/02/2020
NORTHERN IRELAND ON THE INTERNET
Address
117 Old Kilmore Road
Moira
County Armagh
BT67 0NA
About Location Electrics
Welcome to Location Electrics, thanks for stopping by.
Location Electrics is a Craigavon based, audio, video, lighting, and staging – hire, sales and installation company. We provide PA and sound systems, lighting rigs, audio-visual systems including projectors, projector screens, vision mixers, video distribution equipment, right up to outside broadcast facilities We also provide special effects equipment including smoke, snow, fog, haze, and confetti, staging, set design, set building and complete event packages at excellent prices. Location Electrics has been proudly supporting charity, community, faith and corporate sector events across Northern Ireland and beyond for over 20 years. In addition to our hire and fully crewed event services we also carry out sound system, AV and lighting design and installation, backed up by a full range of maintenance, support, training and portable appliance testing services.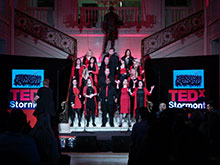 WHY WE ARE DIFFERENT
At Location Electrics we approach each and every job with professionalism and dedication. We understand that although we are involved with lots of events routinely, you may only be running one and it is important to you that you have a team of dedicated professionals there to support your event. Our approach is simple, we are only as good as our last job so every job has to be perfect, 'it's your show, our reputation'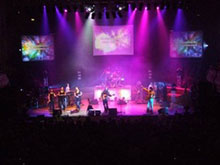 AUDIO AND VIDEOHire services
- Sound, Video, Lighting, Staging & Set
Event services
- All inclusive event packages, Event & Production management
Installation services
- System evaluation, Design, Installation, Training, Maintenance & Portable appliance testing

PROJECTOR SERVICING AND SUPPORT
Dust ingress is one of the most common causes of projector failure, premature lamp failure and poor image quality. Even in projectors that have filters regularly cleaned dust can still find it's way in and build up on key electronic and optical components. We use specialist cleaning methods and products to remove this build up of dust and contamination from the components and where necessary, deep clean the delicate optical components inside your projector to get it back to working as it should. Here are just a few examples from a batch of projectors recently serviced for a local primary school.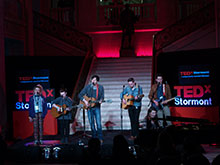 LIGHTINGTEDx Stormont, Parliament Buildings, Belfast
Location Electrics were sub-contracted to design the set and lighting for the recent TEDx event in the iconic Great Hall in Parliament Buildings Stormont. The challenge was to blend the strong brand of TEDx, with its characteristic simple bold uncluttered concept, with all the iconic grandeur and character of Parliament Buildings at Stormont. It was decided to use a graduated lighting scheme to tone the creams of the marble in the great hall in an increasingly richer tone of red (as required by the TEDx brand) as you looked towards the stage. Use of angled backdrops at a complementary angle to the returns at the top of the staircase to frame the rear of the stage would then bring the focal point downwards from the statue of Lord Craigavon onto the stage. Finally, the positioning and design of the TEDx logos, again at complementary angles to the staircase, and careful use of wash lighting to light the logos and either side of Lord Craigavon's statue at the top of the main staircase served to add depth and meld the TEDx set to the Great Hall seamlessly joining the two to present TEDx Stormont. See more pictures of this event on our set design page.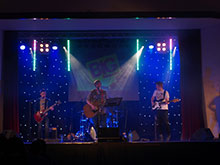 STAGES AND SET DESIGNS
As well as our audio-visual services we also provide comprehensive and flexible range of staging solutions.
Our staging system can be configured to suit a wide range of events both indoor and outdoor, such as concerts, fashion shows, product launches, television programs, conferences audience seating and more.
We can also provide stage extensions to existing venue stages by carefully matching the height of any existing stage and extending the floor area to meet your requirements.
Stages can be 'dressed' to suit your individual requirements with a range of floor coverings, borders and edgings.
For complex stage or set designs we can provide a computer generated design of how your stage will look.
And for that final touch of class to your event we can provide professional set design and building to television quality standards through our strategic partnerships
FOR ANY OTHER QUESTIONS OR ENQUIRIES PLEASE CONTACT US!
Location Map of Location Electrics