16/11/2019
NORTHERN IRELAND ON THE INTERNET
Address
14 Shanes Street
Randalstown
County Antrim
BT41 2AD
Click for opening hours
Monday
Tuesday
Wednesday
Thursday
Friday
Saturday
Closed
Sunday
Closed
Other Dates
Appointments can be set up for Saturday mornings - Please contact the office.
About Butlers Mobile Systems
Butlers Mobile Systems
Manufacturers of Specialist Trailers
Catering
Mobile Kitchen
Refrigeration
Exhibition
Hospitality
Sales
Concessions
Farmer's Markets
Marquee Hire
Hire Service
Grandstand Trailer
Stage Trailer
Refrigerated Trailers
Exhibition Trailers
Box Trailers

Butlers Mobile Systems, established in 1981, is a family-run business based in Randalstown, Co. Antrim, Northern Ireland. We design and manufacture all kinds of trailers, such as mobile catering trailers for fast food, crepes, coffee, doughnuts, pizza, confectionery, kebabs, ice cream etc., mobile kitchens, exhibition trailers, hospitality trailers, sales trailers, concessions trailers, refrigeration trailers and farmer's market trailers.
We have a repair and refurbishment service available, as well an industrial cleaning service for catering trailers.
For more than 30 years, we have been supplying trailers to Northern Ireland, the Republic of Ireland, England, Scotland, Wales and Europe.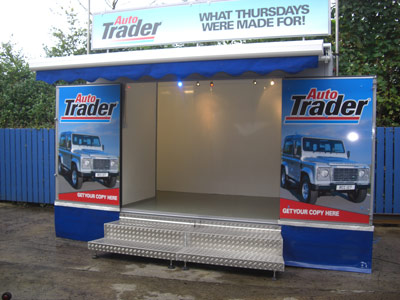 The trailers and vehicle bodies are all made to the customer's specification. The customer has the option to supply their own equipment and we can fit it for them, or we can supply all of the equipment that the customer requires.
Presentation, appearance and the products that you sell are the keys to a successful business, and we can advise you on this.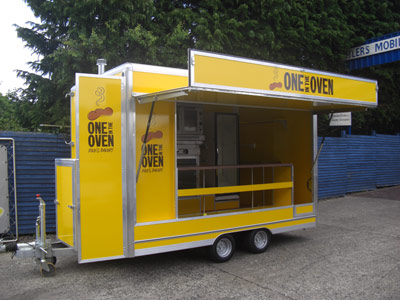 Through the years, our designs and engineering have stood the test of time, with many customers becoming repeat customers with success stories along the way.
We are proud of the ongoing business relationships we have developed, which include the following companies:
Coca-Cola


HB


Nescafe


Guinness


Supermac's


Local Council Authorities


Cancer Fund for Children


Samaritans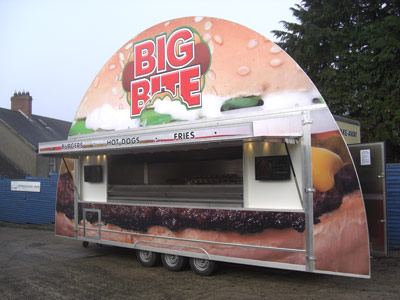 We hire out exhibition trailers (sizes range from 12'-16') and refrigerated trailers.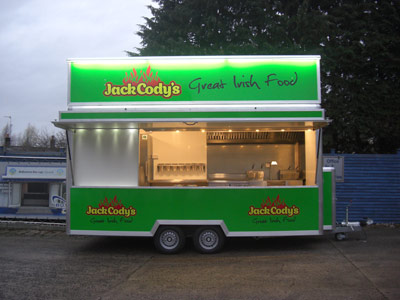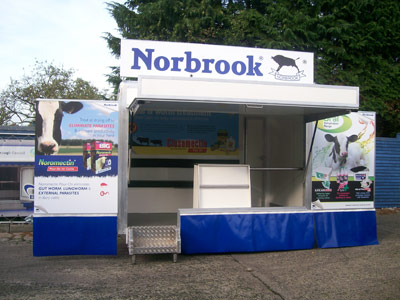 Butlers Mobile Systems Gallery
Butlers Mobile Systems Products & Services
Catering Trailers
Exhibition Trailers
Bakery Trailers
Hospitality Trailers
Mobile Kitchen Hire
Coffee Trailers
Ice Cream Trailers
Crepe Vans
Fish Trailers
Hot Food Vans
Fish & Chip Vans
Mobile Bars
Grandstand Hire
Stage Hire
Butlers Mobile Systems News
Feb 21, 2019
Catering Trailer Manufacturer
---
At Butlers our passion is to provide our customers customized trailers for the catering and hospitality industry. Whether you are just starting out or adding to your existing fleet Butlers will assist you in what would be the best design and layout for you. Our extensive product range includes catering trailers, van conversions, sales trailers, exhibition trailers and hospitality trailers. Available within our range are commissioned trailers, for the sale of pizza, coffee, fish & chips, crepes, bread and many more. For more information, Contact us on, ?? 028 9447 3996 ??info@butlersevents.com ?? www.butlersevents.co.uk
Jan 1, 1900
GRANDSTAND HIRE & STAGE HIRE
---
This year we 2 new products to add to our hire fleet. The first is a Grandstand that is covered with sides (sides are removable) and can seat up to 122 people. The second is a Mobile Stage, the stage is 20' wide and can be 14' deep or 20' deep. For further details please contact us.
Location Map of Butlers Mobile Systems