22/02/2020
NORTHERN IRELAND ON THE INTERNET
20/11/2015
NIs Best Christmas Markets
Northern Ireland is not well-known for its inviting winter weather. However, its people are also well-known for not being easily put off – so offer them a good enough reason to brave the bracing chill and ever-present threat of a downpour and they will be there. And what better reason could there be than a fine winter market.
Below is list of five of the finest seasonal markets across Northern Ireland.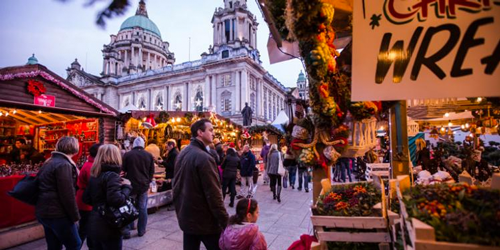 Belfast Continental Christmas Market 2015
Voted the Best Large Specialist Market 2015 by National Association of British Market Authorities (NABMA), you're invited to the grounds of Belfast's City to enjoy a wide range of authentic continental food, clothing, arts crafts and decorations from across Europe and beyond.
The market offers a selection of handbags, satchels, socks, hats and gloves, wooden toys, essential oils, crystals, hand-painted pottery, Christmas decorations and much more!
The market is open daily until 20 December.
Monday - Wednesday: 10am – 8pm
Thursday - Saturday: 10am – 10pm
Sunday: 1pm - 6pm Santa's Grotto
Santa's Grotto will be open:
Monday - Friday 11am – 7pm
Saturday 11am – 7pm
Sunday 1pm – 6pm
And if you post Santa a letter in the post box (in the grounds of the Belfast Christmas Market) by 18 December, your child will receive a letter back from him.
Belfast City Council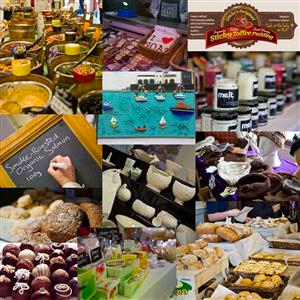 Limavady Christmas Artisan Market
Fresh aromas, vivid colours, eclectic treasures, buzzing crowds – a mere stroll amongst the many stalls of an Artisan Market are enough to invigorate the senses and whet the appetite.
The market aims to keep things authentic, providing a rare and enchanting opportunity to meet the many food & craft producers & suppliers from the North Coast and Glens area.
A haven for anybody who cares about the quality and provenance of the food they eat, for those that seek something different from what is found on supermarket shelves. It provides a cornucopia of exquisite handcrafted, artistic items and an opportunity to interact with the artisan who has produced them.
The stallholders themselves are primary producers – people who grow, make, create, style, rear, craft or bake the products that they sell. As a result, the Artisan Markets have become a vast repository of culinary knowledge, artisan craftsmanship and skills from previous generations. It's a place to explore, to ask questions, to discover new flavours, stumble upon raw talent, unearth entrepreneurship, nurture bygone mastery, and to savour a unique, buzzing atmosphere.
The market takes place at the Roe Valley Arts and Cultural Centre on Saturday, 05 December, between 11:00 and 16:00.
naturallynorthcoastandglens.co.uk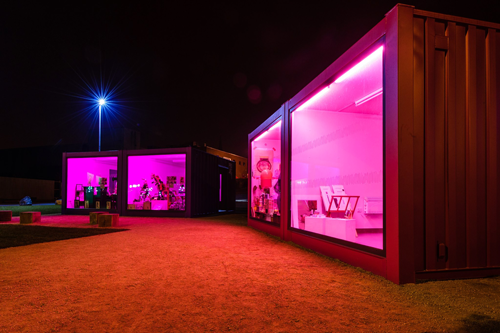 Christmas in the Hub at Project24 Bangor
Join professional artists and makers in the Hub and in the Art Pods at Project 24 on Saturday, 19 December from 10:00 until 16:00 for your chance to buy that special unique, hand crafted and inspired Christmas gift.
Alongside the Craft Market, a selection of free entertainment will be provided throughout the day, including:
11am - 1pm – Meet the Precious Pink Christmas Fairy and Valentine Winterbottom from Belfast Premiere Circus
11am - 12noon & 1.30pm - 2.30pm free Children's Craft Activities
12noon - 1.30pm & 2.30pm - 3.30pm free Face painting
Other activities at Project24 include the Christmas lights switch on on Friday, 04 December, between 18:00 and 20:00.
Santa will be in his grotto on Saturday 12 and Sunday 13 December, between 10:00 and 16:00.
And 'Skate your way into the New Year' at the outdoor synthetic ice rink from Friday 01 to Sunday 03 January 2016, Skates provided for 20 minute sessions.
project24ni.com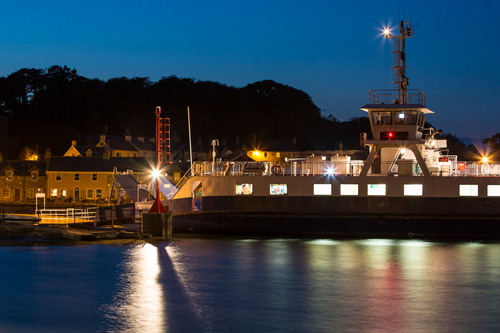 The Carol Ship on Strangord Lough
Thursday 10, Friday 11 and Saturday 12 December will be wonderful nights of fun for the whole family in both Portaferry and Strangford with Christmas markets, Christmas music, storytelling, decorated boats, streets and monuments.
The decorated Strangford ferry will cross the Lough every fifteen minutes, with music performed on board by groups and choirs from a 30 mile radius ringing out across Strangford Lough. As the broadcaster, Kim Lenaghan, said: "Boats, twinkly lights, carols, a great setting on Strangford Lough ....what's not to love?"
Following the success of last year's inaugural 'Carol Ship on Strangford Lough', 2015 promises to be even bigger and brighter.
In Canada the 'Carol Ships' Parade of lights provides a traditional carol ship and shore-side celebration of lights during the holiday season. The idea began over 50 years ago with one boat decorated with Christmas lights in Vancouver, British Columbia. On peak evenings fifty years later, this holiday tradition has grown to more than 50 decorated boats, with an excess of 100,000 lights and thousands of people who enjoy the many community-based shore-side celebrations.
Last year, members of Portaferry and Strangford Trust realised that this area already has a boat, the Strangford Ferry, servicing the oldest continuous ferry crossing in the world. The task was to transform it to a Carol Ship and with the help of many people this became a reality.
For two nights music rang out across Strangford Lough from the Ferry decorated with Christmas lights and, in both Portaferry and Strangford, families enjoyed the Christmas markets, music, food and children's entertainment.
portaferryandstrangfordtrust.org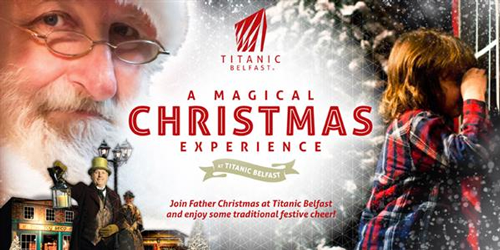 A Magical Christmas Experience - Titanic Belfast
Join Father Christmas for traditional festive cheer from 27 November at Titanic Belfast's Magical Christmas Experience.
Make your own decorations, play timeless street games, enjoy classic stories, write your Father Christmas letter and visit the man himself in his Old Curiosity Shop where he'll check your name off the 'Naughty or Nice List'.
Child (under 13yrs) includes:
Candy Cane
Storytelling
Arts & crafts including festive decoration making
Traditional Games
Father Christmas Letter Writing
Entry to 'Ye Olde Picture house'
Traditional costume dress-up
'Naughty or Nice' list stop, before entering the Old Curiosity Shop
Individual photo with Father Christmas (and print)
Father Christmas Gift and Christmas Cookie
For the adults a mug of mulled wine (over 18yrs only) or tea/coffee if preferred and a traditional mince pie.
Tickets: Children £15, Adults £4
Dates: 27 - 29 November: Open Friday to Sunday.
3 - 6 December: Open Thursday to Sunday.
10 - 23 December: Open Daily.
Average experience duration is 45min - 1 hour.
titanicbelfast.com
Read part two of this feature
here
.
---
Latest Northern Ireland Features
30 January 2020
Explore NI's Stunning Walking Trails
It's a new decade and a new chance to get in shape, enjoy the fresh air and explore your local area. While this may sound mediocre compared to the holidays we're all currently dreaming of booking, Northern Ireland is dotted with stunning coastlines and mountain plains that quite frankly don't get the credit they deserve.
06 January 2020
January Money Saving Tips
Whether you're starting back to work, participating in 'Dry January' or hitting the gym with a new fitness regime, January is the month when many of us decide to turn over a new leaf.
18 December 2019
Belfast Pubs To Visit This Festive Season
Whether you're planning a quiet catch up with family and friends, hoping to dance the night away or heading out on a 12 pubs of Christmas night out, it's always good to have a selection of decent bars and pubs up your sleeve for the festive season.
13 November 2019
Your Guide To Northern Ireland's Christmas Markets
It's that time of year again, and the Christmas countdown will soon be on. As the streets begin to sparkle with festive lights, the annual tradition of wrapping up warm and browsing the local Christmas market becomes top of the to-do-list again.
31 October 2019
Get Organised This Christmas
Halloween is all but gone and whether we like it or not, the Christmas countdown will soon be upon us.
14 October 2019
How Best To Spend Your Halloween
With a definite chill in the air and a layer of crunchy leaves lining the streets, the signs of Autumn couldn't be clearer. The new season can only mean one thing though, and Halloween is definitely upon us.
03 September 2019
Tour The Finest Local Cuisine With 'Taste the Island'
An extensive range of local foodie events will give people the opportunity to 'Taste the Island' over the next 12 weeks in a celebration of the region's finest food and drink, tasty experiences and scrumptious adventures.
31 July 2019
Open House Festival Returns To Bangor
A celebration of culture, creativity, people and passion- Bangor's Open House Festival is back for the seventh year with a bigger and better programme of concerts and events.
08 July 2019
Activity Ideas To Fill Your Summer
'School's out for summer' are words every child and teacher longs to hear, but the holiday period isn't always as joyful for parents. The unpredictable weather, inevitable boredom and complete lack of routine can have many mums and dads wishing their little ones were back at school come the second week of July.
20 May 2019
What's On Spring-Summer 2019
As the evenings stretch out and temperatures begin to soar this spring, calendars are filling up with holidays, concert dates and day trips across Northern Ireland. Whether you're hoping to plan an exciting Bank Holiday weekend, a fun day out for the family or a culture-filled tour, there's plenty on offer right through the summer.
Northern Ireland Weather

Today:

Bright with some blustery showers, these possibly wintry at times. It will feel cold in the strong westerly winds, gales around the north coast at times. Maximum temperature 7 °C.

Tonight:

A few scattered showers this evening. Widespread rain will spread across all parts during the early hours before rain turns more patchy by the end of the night. Minimum temperature 3 °C.