19/06/2018
NORTHERN IRELAND ON THE INTERNET
05/05/2017
Spirits Are High
It's time to take full advantage of the sudden burst of good weather. You can never take the sun for granted here, so it's important to capitalise on its availability and one of the best way to do that is of course at your favourite beer garden or rooftop bar. Below is some of our favourites and recommendations, should any of them not be familiar to you...
The Perch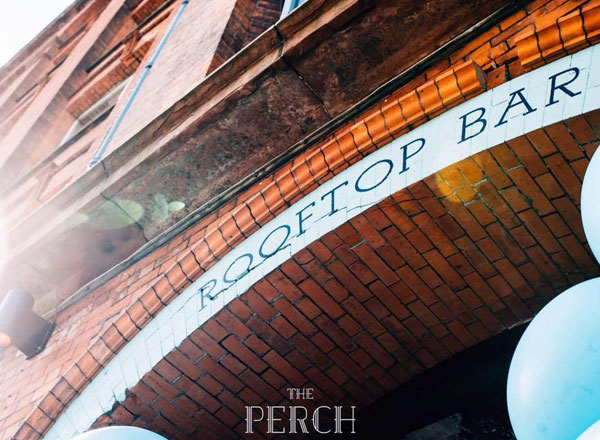 42 Franklin Street, Belfast Given the scarcity of actual rooftop bars in Belfast, we would be foolish to start anywhere other than at Perch. A little rooftop oasis right in the middle of the city, Perch can very quickly make you forget you're still in Belfast and not just because of its impressive cocktail list.
theperchbelfast.com
Lavery's Beer Garden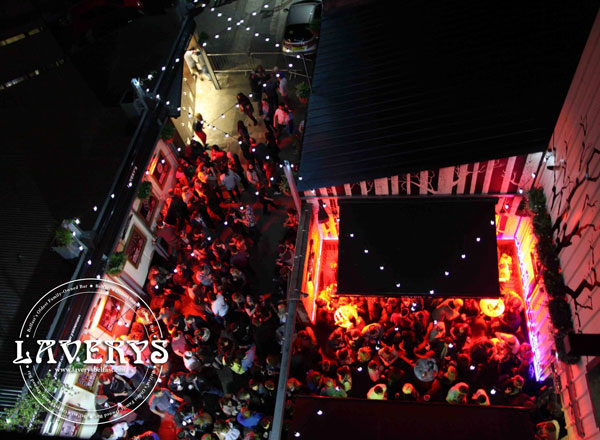 12-18 Bradbury Place, Belfast What was once a small yard just outside the back bar, which would extend out into the grimy alleyway on weekends, Lavery's has been transformed into a beautifully decorated and inviting beer garden. The raised beer garden, just outside the back of the main bar, can be a little spartan in daylight hours, but as day becomes night, the garden comes into its own. Always busy, but equally always friendly and inviting.
laverysbelfast.com
The National Grand Cafe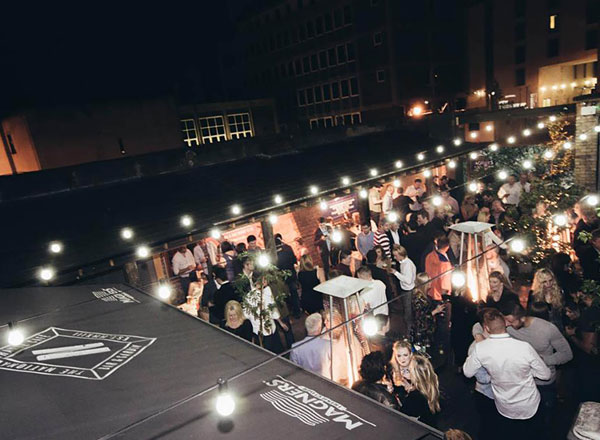 63 High Street, Belfast When the National Grand Cafe (NGC) first opened it was praised for its more European approach to the bar concept – which essentially allows it to function as a cafe by day and bar by night, all within the same building. Now, granted you can get tea and coffee in all bars, but how many cafes will also serve you a cocktail... Based in the beautiful old Nation Bank Building, the NCG has also extended its reach beyond the confines of its physical building and now has one of the largest beer gardens in the city. Not only does it offer all the usual drinks, but a year round BBQ! NGC is also one of the few places on the list that can cover both criteria as it also has a neat little rooftop bar. It is essentially a sun room with a retractable roof, but if you're lucky enough to secure a seat, you'll be begging everyone around to go to the bar for you.
thenationalbelfast.com
Duke of York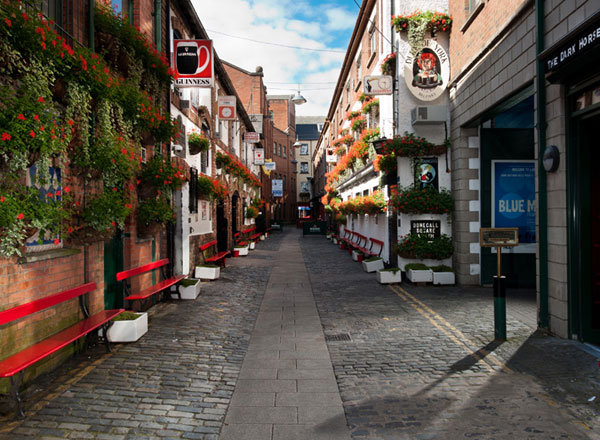 Commercial Court, Belfast We're not entirely sure what actually defines a beer "garden" but the alley fronting the Duke of York in the Cathedral Quarter is still one of the finest spots in the city.

Lined with numerous benches and beautiful hanging baskets the wide alleyway is inviting and perfectly contained. Even if you're there long enough for the sun to pass on by, the alley becomes a cosy haven for a great night out with friends. Of course, should the rain come, everyone can cram inside one of the smallest, but most beautiful bars in the whole city.
dukeofyorkbelfast.com
The Sunflower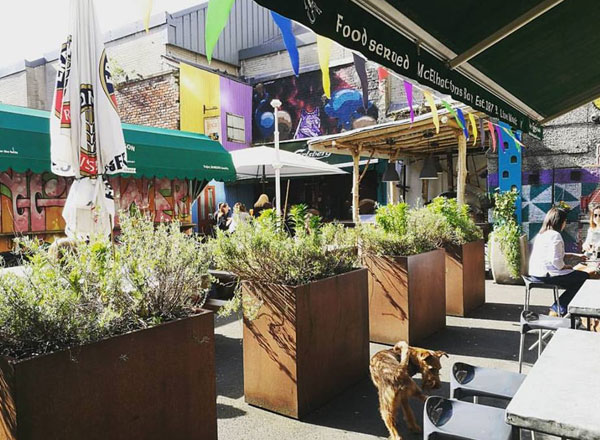 Union Street, Belfast. The Sunflower Bar is quite simply the most punk rock bar in the city. It's position at number five on this list bears no relation to how much we love it. The bar itself is small but having taken over an empty yard outside it has greatly expanded it's capacity. It is a simple, perhaps rustic affair, but the Sunflowers charm and friendliness happily spills over. Add to this the Boxing Hare – the bar's in-house wood fire pizza oven knocking out made to order pizza's in mere minutes – and it is hard to find a better bolt hole in the whole city.
sunflowerbelfast.com
The Dirty Onion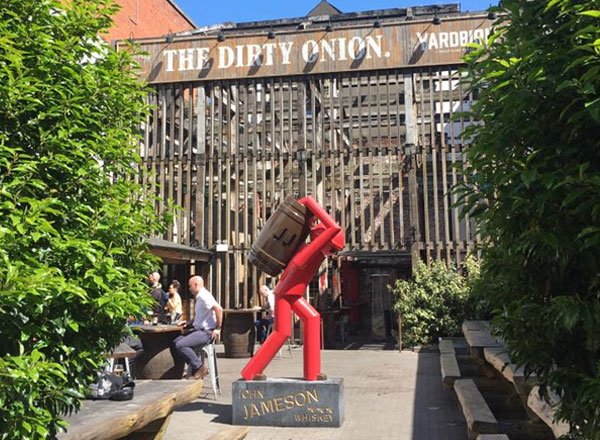 Hill Street, Belfast Based in one of Belfast's oldest buildings, allegedly dated to 1608, the Dirty Onion aims to bring a beautiful traditional Irish pub feel into the centre of the city. On a cold and windy night, there are few places better to be than next to the peat burning open fire. But when the sun is out, the Dirty Onion also offers a wonderful outdoor bar. With generous seating in its spacious yard, even on it's busiest afternoon it is still comfortable and inviting.
thedirtyonion.com
The Dirty Duck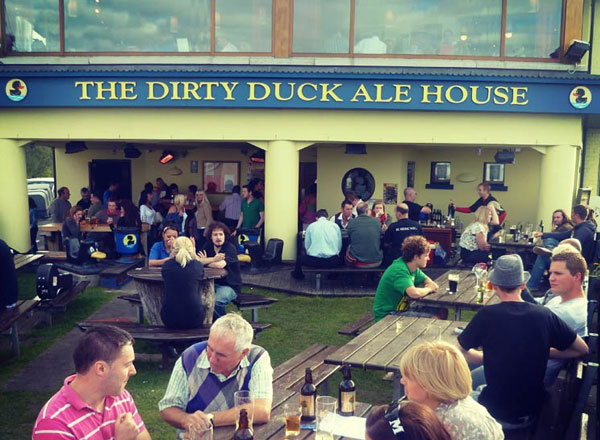 Holywood Esplanade, Holywood 
With views across Belfast Lough to Whiteabbey and Carrickfergus, sitting next to a small boat yard, it doesn't get much more nautical than the Dirty Duck.
 The Duck boasts an upper floor restaurant and beautifully cosy indoor bar, but with the sun sparkling across the Lough it is all about the outdoor beer garden. Stay long enough and you'll be treated to beautiful views of the sunset across the bay.
thedirtyduckalehouse.co.uk
---
Latest Northern Ireland Features
12 June 2018
Convertible Cars On A Budget
The convertible car; an absolute must-have for sunshine driving. With sunny days a strange and rare occurrence in this country, it's fair to say when the weather is this good, owning a convertible car should go straight to the top of anyone's 'must buy' list.
08 May 2018
Must See Tourist Spots
When it comes to Northern Ireland tourist spots there are a lot of suggestions that can be made, from the historical landmark to the locations used for filming the likes of Game of Thrones - Below you'll find our recommended locations in NI which are a must see.
11 April 2018
Walking NI
With the weather getting ever better – with obvious exceptions made for when it decides to snow – we think it's time to reach into the back of the cupboard and bring forth the light anoraks and sturdy walking boots. Northern Ireland is spoilt for beautiful walking destinations.
26 March 2018
Easter Eggstravaganza
Is it finally here..? Can we really trust the sun..? It is so pleasing to finally feel it's warmth again, but how long will it last... Nonetheless, Easter is just around the corner and we encourage you to be bold and plan some fun, eggcellent (sorry!) adventures.
15 March 2018
St Patricks Day 2018
Top o' the morning to ye! Once again, the day is upon us where the streets will be awash with the colour green as we celebrate the life of everyone's favourite missionary, Saint Patrick. To celebrate the occasion, we've drawn up a list of some fun events happening around the Emerald Isle on 17 March...
29 January 2018
Moors, Shores and Sightseeing Tours
Whether you're an eager tourist, or a curious local, a well-planned and organised tour can be an excellent way to kill a few hours. It also seems in Northern Ireland, you'll be spoilt for choice.
09 January 2018
January Freebies
January is a long month. Long enough to dwell on just how much money you got through over the holidays, and just how long it is until next payday. But you don't have to sit around the house willing away the days because they are many and varied things you can do in and around the city for free.
19 December 2017
His & Her Christmas Gifts
It's that time of year again, when the air smells faintly of mulled wine and The Pogues get an ungodly amount of coverage across our radio waves. And of course, with Christmas comes those two words that are enough to strike terror into any man; gift shopping.
01 December 2017
Festive Favourites - Part One
Tis the season to be jolly... TRA LA LA LALA LA LA LAAAAA! Despite the particularly bad turn in the weather, this is still a time of year that drives people from their homes, and not just into the shops.
Northern Ireland Weather

Today:

Early brightness over Antrim, otherwise a cloudy day in store. All parts starting dry but light and patchy rain soon reaching Fermanagh will extend to all parts this morning, turning heavier this afternoon, especially in the north. Light winds. Maximum temperature 18 °C.

Tonight:

Cloudy with further outbreaks of rain, heavy at first then turning light and patchy. Becoming drier towards North Coast after midnight and this drier weather reaching most places by morning. Minimum temperature 10 °C.