12/12/2018
NORTHERN IRELAND ON THE INTERNET
01/12/2017
Festive Favourites - Part One
Tis the season to be jolly... TRA LA LA LALA LA LA LAAAAA! Despite the particularly bad turn in the weather, this is still a time of year that drives people from their homes, and not just into the shops. As everyone needs a break from the hustle and bustle of hunt for the perfect present, below we are offering some suggestions for suitably festive distractions. Which of course does indeed contain some markets...
Belfast Christmas Market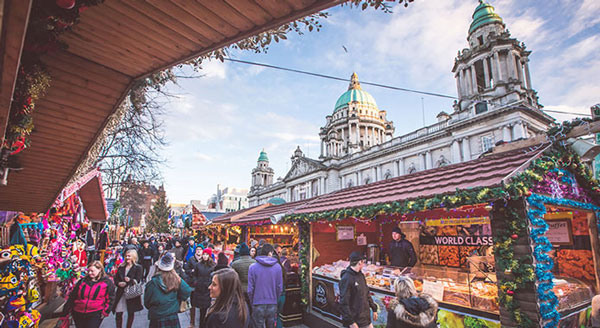 Arguably the most well-known market thanks to its twice yearly visits to the grounds of the Belfast City Hall, the Belfast Christmas Market has returned, ready to fulfil all your wintry impulse buys. This year's event will have even more variety to choose from, including a new spacious eating area where you can sit, relax and enjoy the tasty delights that the market has to offer. The Market fun starts outside the gates of the City Hall, on Donegall Square North, with 20 traders offering a range of high quality goods from their hand-crafted chalets. Inside the gates visitors will find an exciting selection of hand-painted pottery, continental food, fancy festive decorations, and a wide range of festive arts and crafts from across Europe and beyond. The council has also announced the return of the market's 'Buddy Scheme'. Keen to promote accessibility for everyone, the market is inviting individuals with additional accessibility requirements to attend, with or without a buddy, during a quieter time of day – 10am -12 noon, Monday – Wednesday. Free tours of the market can be provided, with advanced booking. Of course, Santa's Grotto will be back, where you can not only meet the big man, but you can make sure your letter is definitely delivered. Opening hours:
Monday - Wednesday: 3pm - 6pm
Thursday - Friday: 2pm - 7pm
Saturday: 11am - 7pm
Sunday: Noon - 6pm
If you post Santa a letter via his post box, in the grounds of the Belfast Christmas Market, by 21 December, you can expect to receive a letter back from Father Christmas! More information, including how to book tours, can be found
here
.
Days of Christmas Past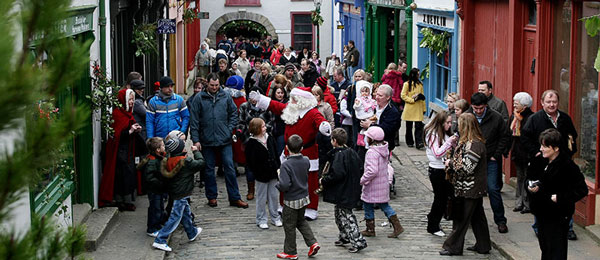 This festive season your invited to take your family back in time to experience the magic of a traditional Christmas at the Ulster American Folk Park. Gather around the warmth of the turf fire and enjoy readings from The Night before Christmas, singalong with the Christmas Mummers, taste seasonal treats and meet Santa and Mrs Claus in his workshop. Take home a treasured memory of your day spent in Christmas past by purchasing a special photograph with Santa & Mrs Claus. The event takes place at the Ulster American Folk Park, Omagh, from 9th - 17th December. Go to
nmni.com
for more information and to book.
Santa Paws at The Dirty Onion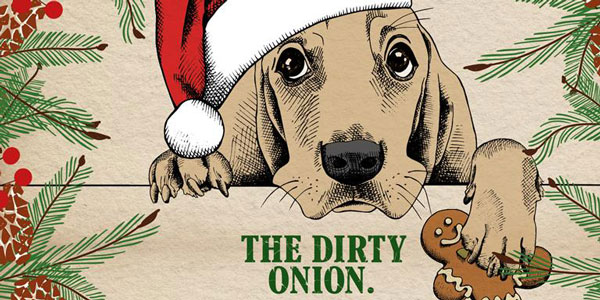 Calling all you dog owners, leave your pooch at home no more, well on Sunday 3rd December anyway. You and little Fido are invited to a festive afternoon to meet the one and only Santa Paws at the Dirty Onions' very own snow globe grotto! The Dirty Onion are getting into the Christmas spirit this season offering customers personalised photographs with their pooch and Santa Paws for just £10 including a card frame and doggy treats. The event takes place at the Dirty Onion on Hill Street in Belfast's Cathedral Quarter between 12-4pm on Sunday 3rd December.
thedirtyonion.com
A Derry Little Christmas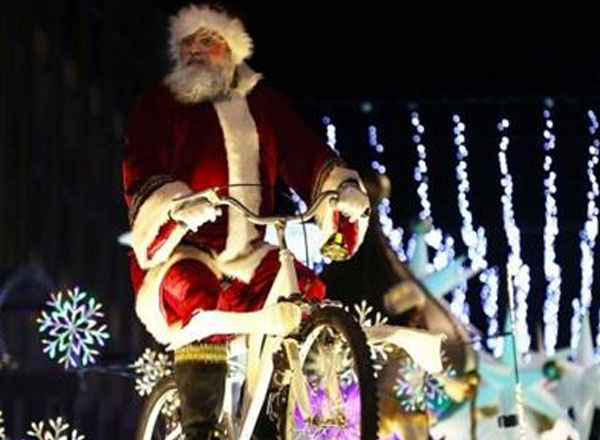 I really wish I could claim the glory of that pun in the subheading, but unfortunately cannot, but it should be enough to convince you to attend the biggest ever Craft Fair in the Guildhall in L'Derry. Guildhall Square will welcome the very best artisan traders, offering visitors a friendly shopping experience with a wide selection of speciality foods ranging from fresh fruit and vegetables to homemade jams and preserves, artisan breads, cakes, sweets and treats plus handmade crafted products. Of course, this being L'Derry, former European Capital of Culture, this is far from the only Christmas event on offer. You could immerse yourself in the festive atmosphere by completing the enchanting Wonder Windows Trail. Meet the life-sized majestic polar creature, Bjorn the Bear, along with his Arctic Explorer who'll visit the city as part of our beautiful Winterland Market with a craft beer, artisan food & live music. Celebrate the season to be jolly with the city's Mayor at his free and atmospheric winter fairytale, Lost in Frost, which takes place in both Derry and Strabane, or dance your socks off at the Mayor's Christmas Tea Dance. Derry & Strabane promise that there really is something for everyone in their Christmas Programme. Go to both
derrystrabane.com
and
visitderry.com
for more information.
A Mid-Winter Tale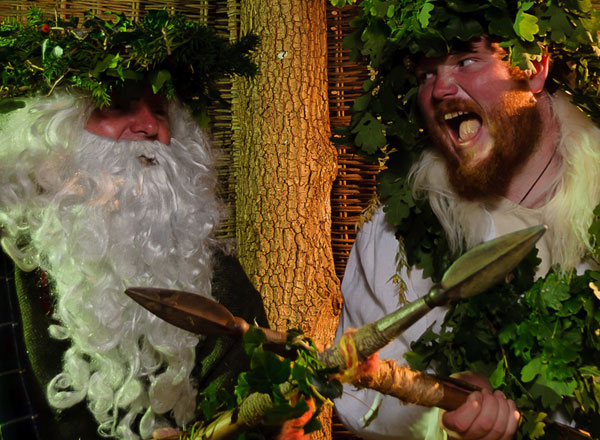 A Celtic themed celebration of the arrival of Mid-Winter and the Winter Solstice - the shortest and darkest day of the year. "Darkness has descended and the people are gathered to see the Holly King fight the Oak King. If the Oak King defeats the Holly King, darkness will end and light will return for the year." Taking place at Navan Centre & Fort – one of Ireland's most famous and important archaeological sites, the legendary Emain Macha – on Friday 15 December, visitors are invited to enjoy some traditional fayre at this most unusual Christmas event. Navan Centre & Fort is a place where myth and reality meet. Legends say that Macha, the ancient goddess of war and fertility, scored the earth with her brooch pin and traced the famous outline of this sacred stronghold of the hero Cu Chulainn, home of the famous Red Branch Knights and Ulster Cycle of tales. Go to
visitarmagh.com
for more information and to book.
---
Latest Northern Ireland Features
28 November 2018
Your Guide To Northern Ireland's Christmas Markets
The Christmas countdown is on, so why not kick-start the celebrations with a wander through one of Northern Ireland's Christmas markets to really get you into the festive spirit. From browsing unique gifts, to sampling mulled wine or meeting Santa, Christmas markets are an excellent way for people of all ages to start the season.
07 November 2018
The Christmas Spirit
The Halloween make-up had barely been washed off when the Christmas train came rolling in. The red cups are out already and the lights ain't even been switched on, but that will all be rectified over the next few weeks, as across NI switches are flipped and lights will begin to twinkle.
19 October 2018
Upcoming Halloween Events
Toffee apples, monkey nuts and fireworks. Just three of the many great things about the Halloween season. For more, check out these events for just a small snippet of what's going on around NI, this October.
24 September 2018
Guide To Glide
Glider is the new, effortless and smooth way to travel. It's easy to use, frequent, accessible and excellent value, running approximately every 7 to 8 minutes throughout most of the day.
03 July 2018
NI's Top Road Trip Destinations
It is time to capitalise on this unusual streak of incredible weather we're enjoying, and the best way to do that..? Two words; Road trip. If you happen to think that you need to travel far or wide to find some epic drives, you'd be quite wrong.
12 June 2018
Convertible Cars On A Budget
The convertible car; an absolute must-have for sunshine driving. With sunny days a strange and rare occurrence in this country, it's fair to say when the weather is this good, owning a convertible car should go straight to the top of anyone's 'must buy' list.
08 May 2018
Must See Tourist Spots
When it comes to Northern Ireland tourist spots there are a lot of suggestions that can be made, from the historical landmark to the locations used for filming the likes of Game of Thrones - Below you'll find our recommended locations in NI which are a must see.
11 April 2018
Walking NI
With the weather getting ever better – with obvious exceptions made for when it decides to snow – we think it's time to reach into the back of the cupboard and bring forth the light anoraks and sturdy walking boots. Northern Ireland is spoilt for beautiful walking destinations.
26 March 2018
Easter Eggstravaganza
Is it finally here..? Can we really trust the sun..? It is so pleasing to finally feel it's warmth again, but how long will it last... Nonetheless, Easter is just around the corner and we encourage you to be bold and plan some fun, eggcellent (sorry!) adventures.
15 March 2018
St Patricks Day 2018
Top o' the morning to ye! Once again, the day is upon us where the streets will be awash with the colour green as we celebrate the life of everyone's favourite missionary, Saint Patrick. To celebrate the occasion, we've drawn up a list of some fun events happening around the Emerald Isle on 17 March...