19/03/2019
NORTHERN IRELAND ON THE INTERNET
03/07/2018
NI's Top Road Trip Destinations
It is time to capitalise on this unusual streak of incredible weather we're enjoying, and the best way to do that..? Two words; Road trip.
If you happen to think that you need to travel far or wide to find some epic drives, you'd be quite wrong. There are many reasons our local film industry has been thriving, and one of the many ones is the stunning scenery just a few short, pleasurable, miles from your front door.
Lough Neagh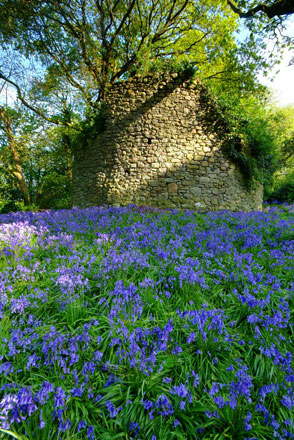 Let's start right in the middle of the country, Lough Neagh makes contact with five of NI's six counties and is the largest freshwater lake in the British Isles.
Driving the lough will lead you to a wealth of worthwhile stop-offs, including Maghery Country Park, Ballyronan Marina and Cranfield Church and Holy Well.
Tucked away in the south western corner of the lough, Maghery Country Park has some great views of the shoreline and out to Coney Island – pictured above is Coney Tower. The Blue Flag Ballyronan Marina is one of the largest on the lough with scenic walks and a woodland nature trail. Located in a secluded location on the northern shore of Lough Neagh, the medieval Cranfield Church and Holy Well occupies a picturesque setting overlooking the shore.
discoverloughneagh.com
Causeway Coast and Glens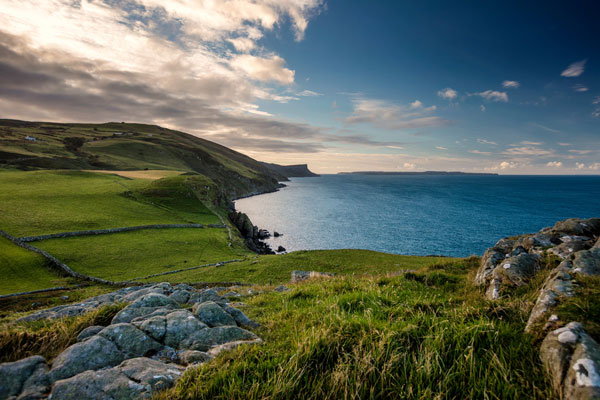 A 120-mile route that follows the coastal path between NI's two main cities, the Causeway Coastal Route has previously been voted one of the world's best scenic views.
The route also have nine "scenic loops", which given enough time will dramatically increase the wonder of your road trip.
Key stops on your trip, include:
Torr Head
: this rocky headland between Cushendun and Ballycastle marks the closest point between the Irish and Scottish coasts, with stunning views of the Mull of Kintyre, Fair Head, the Antrim Coast and Rathlin Island.
Portbradden Harbour
: this picturesque little harbour and hamlet is located at the western end of Whitepark Bay. While you're there be sure to visit the beautiful St. Gobban's Church - one of the smallest in Ireland.
Gortmore Viewing Point, Bishop's Road, Limavady
: the site of an impressive artwork depicting Manannan Mac Lir, the Celtic God of the Sea as part of the Limavady Sculpture Trail, the viewpoint offers breathtaking views of Benone Strand and the Atlantic Ocean, Binevenagh Mountain, which gives its name to the surrounding Area of Outstanding Natural Beauty, Magilligan Point and across Lough Foyle to Donegal.
visitcausewaycoastandglens.com
Strangford Lough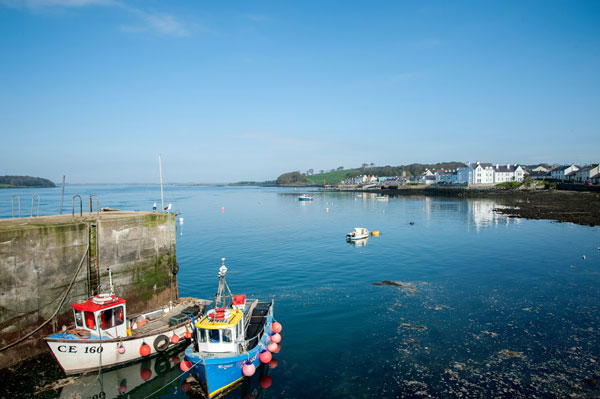 Just 30 minutes outside Belfast you'll find NI's first marine nature reserve and the British Isle's largest sea inlet, Strangford Lough.
A designated Area of Outstanding Natural Beauty, you can drive down either side and be rewarded with stunning scenery, then take the ferry across the lough itself – weather permitting – and drive back up the other side.
Key stops along the route include:
The Floodgates
: located a short distance out of Newtownards on the road to Portaferry, this embankment has some beautiful views across mudflats to the iconic Scrabo Tower and south along the lough.
Kearney village
: this carefully restored, traditional fishing village has beautiful views towards Scotland and the Isle of Man, plus some lovely walks.
Nendrum Monastery
: this important pre-Norman monastic site on Mahee Island, accessed by two bridges from the mainland, occupies a beautiful location overlooking Strangford Lough and its islands.
visitardsandnorthdown.com
The Mourne Mountains and Ring of Gullion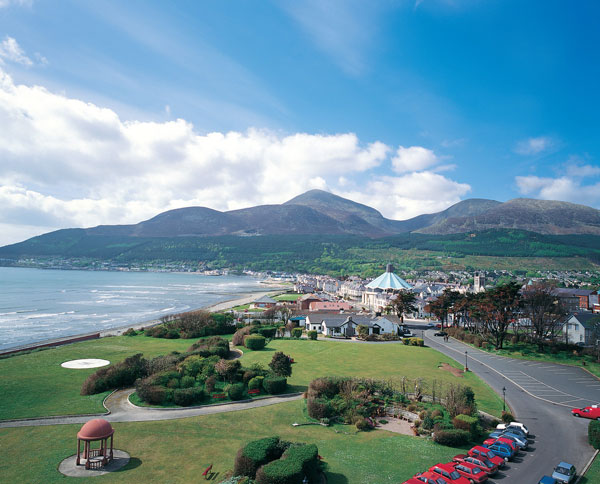 Before a certain television show showered largely unwanted attention on a small section of trees, NI's most iconic landscape was arguably the Mourne Mountains.
The inspiration for CS Lewis' Kingdom of Narnia, the Mourne Mountains & Ring of Gullion region is described as a "veritable open-air playground, providing coastal drives and hill walking to rock climbing, nature rambles, photography, canoeing and cycling to horse riding, bird watching, fishing and world class golf".
The "must stops" on your trip include:
St. John's Point Lighthouse
: this striking black and yellow lighthouse along a rocky shore makes for an impressive photo in its own right and also offers a stunning view across Dundrum Bay towards the high Mournes.
Greencastle Royal Castle
: this impressive building incorporates a mix of 13th to 16th century features, and its elevated position commands a fantastic view of the Mourne Mountains and across Carlingford Lough to the Cooley Mountains.
Slieve Gullion Forest Park
: a scenic drive to the upper parts of the forest offers some impressive views of the surrounding volcanic landscape. The drive also provides access to the trail leading to the top of the mountain itself, which is home to Ireland's highest surviving passage tomb.
ringofgullion.org
The Sperrin Mountains

Staying in the mountains, next up should be NI's most extensive mountain range offering four scenic driving routes – North, South, East and Central – previously included in the National Geographic's prestigious list of the world's 101 scenic drives.
Key stops include:
Barnes Gap
: situated on the Central Sperrins Driving Route, this striking glacial feature comprises a deep incision in the ridge of hills lying to the south of the beautiful Glenelly Valley, with great views of the main Sperrins chain.
Pigeon Top
: located on the South Sperrins Driving Route to the west of Omagh, this prominent viewpoint and picnic area offers some fantastic views of surrounding hills such as Bessy Bell, and further afield.
Slieve Gallion
: situated off the East Sperrins Driving Route near Moneymore, this mountain lies at the eastern edge of the Sperrins with a road leading much of the way to the top. Take in the excellent views over Lough Neagh, the Sperrins, Antrim Hills and Mourne Mountains.
discovertyroneandsperrins.com
It's time to get out and explore. Take the recommended routes, or if you're feeling brave, turn off the Sat Nav and just go explore, NI's not that big, you
probably
won't get lost.
And should you need a new ride for your trip, check out our previous feature on a range of convertibles -
Convertible Cars On A Budget
.
---
Latest Northern Ireland Features
07 February 2019
Where To Dine This Valentine's
As the most romantic day of the year approaches, eateries across Northern Ireland are promoting their best deals and fine wines in a bid to host loved-up couples for Valentine's.
18 January 2019
Family Activities To See You Through Winter
Rather than wallowing in the January blues, a New Year is a perfect time to renew your sense of adventure and plan some fun-filled activities to enjoy with your family.
02 January 2019
January Money Saving Tips
As well as the complete loss of Christmas cheer, January can be particularly challenging in terms of money. Even if you funded the festive period without running up a host of credit card bills, the month of indulgence can still leave a money hangover to be dealt with in the New Year.
17 December 2018
Alternative Christmas Gift Ideas
Not to panic you, but Christmas is just around the corner and the high streets are buzzing with shoppers rushing to fill their baskets.
28 November 2018
Your Guide To Northern Ireland's Christmas Markets
The Christmas countdown is on, so why not kick-start the celebrations with a wander through one of Northern Ireland's Christmas markets to really get you into the festive spirit. From browsing unique gifts, to sampling mulled wine or meeting Santa, Christmas markets are an excellent way for people of all ages to start the season.
07 November 2018
The Christmas Spirit
The Halloween make-up had barely been washed off when the Christmas train came rolling in. The red cups are out already and the lights ain't even been switched on, but that will all be rectified over the next few weeks, as across NI switches are flipped and lights will begin to twinkle.
19 October 2018
Upcoming Halloween Events
Toffee apples, monkey nuts and fireworks. Just three of the many great things about the Halloween season. For more, check out these events for just a small snippet of what's going on around NI, this October.
24 September 2018
Guide To Glide
Glider is the new, effortless and smooth way to travel. It's easy to use, frequent, accessible and excellent value, running approximately every 7 to 8 minutes throughout most of the day.
03 July 2018
NI's Top Road Trip Destinations
It is time to capitalise on this unusual streak of incredible weather we're enjoying, and the best way to do that..? Two words; Road trip. If you happen to think that you need to travel far or wide to find some epic drives, you'd be quite wrong.