21/06/2021
NORTHERN IRELAND ON THE INTERNET
Drumscallen Primary School

Contact Details
Address
Armagh
County Armagh
BT60 4PA
About Drumscallen Primary School
Places To Explore
Just what is it about Armagh that makes it a true original? Raised on seven hills, it is a place of so many 'firsts', where history and mythology have become intertwined. A birthplace of Irish legends. A unique landscape providing distinctive produce. A Georgian city jewel at its core. A place transporting you back to where it all began, stirring the senses and inspiring the mind. And if you are thinking 'well ... where do I begin my Armagh journey?', here's a snapshot of the special places which will get you to the heart of it.
St Patricks COI Cathedral
Armagh Planetarium & Observatory
Armagh Robinson Library
Navan Centre & Fort
F. E. McWilliam Gallery
And much more ...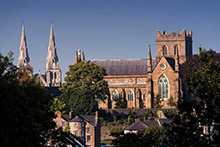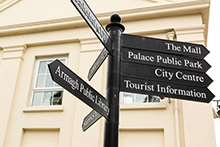 Stories
For 7,500 years people have been drawn to Armagh. Tribes and druids, knights and kings, saints and scholars, innovators and creative talents, legendary names from Irish folklore and history. Read the stories of some of the most famous people from Armagh's epic past and celebrate the modern trend setters and trailblazers who are contributing to a vibrant culture of can-do creativity. Discover new twists on old tales; contemporary takes on established orders; fresh ingredients in a well-mellowed melting pot.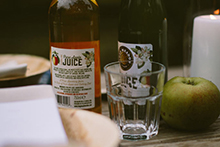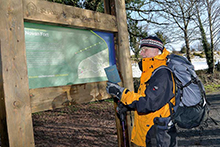 Accommodation
Accommodation across Armagh is as varied as the county itself, with something for all budgets and interests. Many of our accommodation providers have won multiple awards for their services, so you are promised a quality experience whatever you are planning to do during your stay in Armagh.
Visitors who enjoy a little holiday indulgence will love our luxurious and award-winning hotels and guesthouses, offering first-class service with a smile. Our friendly, affordable and welcoming B&Bs will really provide a home from home while you are away, with home-made treats, freshly laundered sheets and wonderful Irish breakfasts that really set you up for the day.
Lovers of the great outdoors might relish the unique experience of an eco-friendly camping pod overlooking Lough Neagh. You could also add a little adventure to your Armagh visit by finding the perfect pillow in a log cabin or Yurt with wood-burning stove, a gypsy caravan, a festy tent for four, or a tepee for two and enjoy exceptional views over rolling countryside, The Cusher River and Slieve Gullion Mountain in the distance.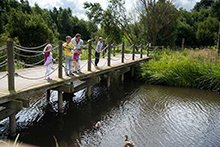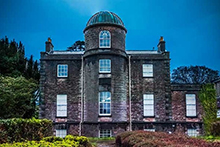 Here you can discover what's on and find cracking events that will make your visit even more memorable! Armagh hosts three major festivals each year. The much-loved Georgian Festival celebrates the city's 18th century Georgian heritage. The 'Home Of St Patrick' Festival hosts many exciting Irish and international artists and events, coming together in recognition of the strong connection with the Spiritual Father of Ireland. The Food & Cider Festival celebrates Armagh's famous apple orchards and the fabulous local cuisine of one of Ireland's top food destinations.
Foodie events are an integral part of the calendar, so prepare for a taste sensation as you eat your way through our local delicacies and savour our award-winning artisan ciders. The area has a vibrant cultural scene and lovers of theatre, art and literature are spoilt for choice with countless events to ignite the imagination. We are also a fun destination for families where you can do anything from archaeological digging at the ancient site of Navan Fort, to bird watching at break of dawn at Lough Neagh, or building your own rocket at Armagh Planetarium!
THE 'SCANDZA' COLLECTION – KEITH SHEPPARD / 17/05/2019 - 06/07/2019
SCOTTISH COLOURISTS FROM THE FLEMING COLLECTION / 31/05/2019 - 28/09/2019
STEEL STONE BRONZE: ORLA DE BRÍ, ANNA CAMPBELL, EILEEN MACDONAGH / 31/05/2019 - 28/09/2019
CATHY MOORE AND KAREN MCCOMISKEY JOINT EXHIBITION / 01/06/2019 - 30/06/2019
LAB NIGHTS – MY LOGO / 06/06/2019 - 06/06/2019
TENX9 / 06/06/2019 - 06/06/2019
CELTIC PSALMS: REST IN THE SHELTER / 07/06/2019 - 07/06/2019
AMELDA / 07/06/2019 - 07/06/2019
SMOKE IN MOTION – NATHAN NESBITT / 07/06/2019 - 13/07/2019
ARMAGH COUNTY AGRICULTURE SHOW / 08/06/2019 - 08/06/2019
EIGHTY-NINE / 14/06/2019 - 14/06/2019
CAROL / 14/06/2019 - 14/06/2019
THE REAL HOUSEWIVES OF NORN IRON / 15/06/2019 - 15/06/2019
UK PIPE BAND CHAMPIONSHIPS / 15/06/2019 - 15/06/2019
KILLYMUCK / 15/06/2019 - 15/06/2019
FE – BABY ART / 19/06/2019 - 19/06/2019
ARMAGH WALKING TOURS / 20/06/2019 - 20/06/2019
THE LITTLE MERMAID / 21/06/2019 - 21/06/2019
SUMMER SOLSTICE SUNSET / 21/06/2019 - 21/06/2019
THE CHRONIC IDENTITY CRISIS OF PAMPLEMOUSSE / 21/06/2019 - 21/06/2019
SHOWTIME / 22/06/2019 - 22/06/2019
MICKY BARTLETT: LOVE IT / 22/06/2019 - 22/06/2019
SUNDAY WALKING TOUR / 23/06/2019 - 23/06/2019
LEGENDS OF AMERICAN COUNTRY SHOW / 27/06/2019 - 27/06/2019
GOTTA DANCE! / 28/06/2019 - 28/06/2019
HUNKPAPA / 29/06/2019 - 29/06/2019
MR SMITH GOES TO WASHINGTON / 04/07/2019 - 04/07/2019
HEROES AND LEGENDS / 06/07/2019 - 07/07/2019
LAZY SUNDAYS / 07/07/2019 - 25/08/2019
MINECRAFT: MOON THEMED / 11/07/2019 - 13/07/2019
Location Map of Drumscallen Primary School
Drumscallen Primary School Branches
Palace Stables Heritage Centre, Armagh
028 3752 9600
Building Control, Armagh
028 37529616
Registration Of Births Deaths &, Armagh
028 37529615
Finance Section, Armagh
028 3752 9636
40 Upper English Street, Armagh
028 3752 9600
Social Education Centre, Armagh
0300 0300 900