28/06/2022
NORTHERN IRELAND ON THE INTERNET
Medical Goods in Newtownabbey, Northern Ireland

Comfort First NI has opened to fulfil the need for a Chair Specialist in Northern Ireland. With 40 years' experience in the local furniture business, make it your first stop for Riser recliners, chairs and adjustable beds, with a specialist stock and knowledge of each. Now available to serve the public, as well as nursing homes, residential homes, day centres, folds and care homes.
www.comfortfirstni.co.uk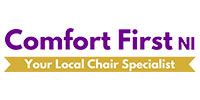 Comfort First NI
3 Monkstown Village Centre, 97 Monkstown Road, Newtownabbey, BT37 0HS
028 9034 2480
Comfort First NI, Specialist Chair & Bed Gallery Which Magazine Best Buy Celebrity Riser Recliner available for immediate delivery £839. Single motor riser/recliner. 3' Profile Bed...

Norso Medical Ltd
Units 44-46, Mallusk Enterprise Park, Newtownabbey, BT36 4GN
028 90343927
Map of Medical goods Companies in Newtownabbey